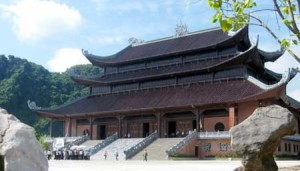 Bai Dinh Pagoda, the largest pagoda in Vietnam, is famous not only for its size but also for housing a 100-ton bronze Sakyamuni Buddha statue and 500 stone Arhat statues
Roughly 90 kilometers south of Hanoi, Trang An sits nestled amid the glorious limestone cliffs, forested mountains, and lakes of Ninh Binh Province.
We took a rowboat through the area to discover Trang An's stunning scenery. The huge green mountains shone back up at us from the clear blue water below. As we paddled, we couldn't help but feel taken in by the romantic chorus of songbirds and oars gently stirring the water.
The boat carried us through many lakes, studded on all sides by inviting cave grottos.
We must have passed through 50 caves, each one a grinning maw of bright stalactites.
HOW TO GET THERE
* Trang An Tourist Site covers a total of nearly 2,000 hectares in Truong Yen, Ninh Van, and Ninh Hai communes of Hoa Lu District, Gia Sinh Commune in Gia Vien District, and Ninh Nhat Commune in Ninh Binh Town in Ninh Binh Province.

* From the center of Hanoi, travel south along National Highway 1A for 80 kilometers to get to Ninh Binh Town. Turn right and go for another 12 kilometers to reach Trang An.

* Tourists can also take a bus from Giap Bat or My Dinh bus stations to go to Ninh Binh Town. They then take another bus or taxi to get to the tourist site.
Toi (Dark) Cave stretches 315 meters back into the mountain – the deepest in Trang An. Large limestone outcrops looming at the entrance and exit give the cave a surreal, mystical feel.
Other grottoes like Sang (Light), Ba Giot (Three Drops) and Son Duong (Chamois) are also famous attractions.
In fact, the 2,000-hectare Trang An Tourist Site is endowed with nearly 100 caves. While half of them can be visited by boat, the rest must be accessed on land.
After cruising through the caves, we climbed mountains to visit temples that held relics dating back to the eleventh century.
We also stopped in at Bai Dinh Pagoda, the largest in Vietnam.
The 107-hectare pagoda is famous for housing a 100-ton bronze Sakyamuni Buddha statue, the heaviest of its kind in Southeast Asia, and 500 stone Arhat statues (spiritual practitioners who have realized the goal of Nirvana).
Thanks to its majestic architecture and solemn atmosphere, Bai Dinh Pagoda attracts many pilgrims every day, especially during the first lunar month.
Tourists take rowboats to take in Trang An's stunning scenery
Reported by Ngoc Minh (thanhnien news)