Thang Long – Hanoi is one of the ancient capital city of Southeast Asia and is the only city in this region has a long history and continued development for thousands of years. History of  Thang Long – Hanoi associated with the magnanimous history of the nation, the symbol take form years ago where not only the features of the Thang Long culture, but also a symbol of the common culture Vietnam.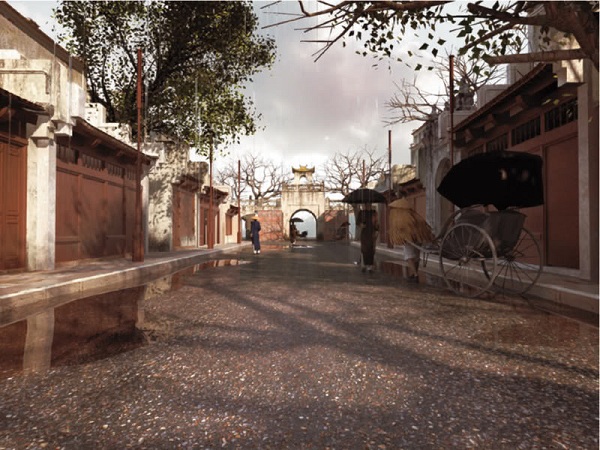 That is the Co Loa, one of the oldest court in East Asia – proved a powerful state Au Lac, a lesson on national security, a tragedy loss nation,  a sympathize heart before the fate of love between two young people who are just as guilty just a victim of the dark intrigue.
| | | |
| --- | --- | --- |
|   |   | |
| One Pillar Pagoda | Khue Van Cac | Hoan Kiem lake |
As Thang Long citadel is just has revealed archaeological excavations in the scale of Southeast Asia's
largest early years of this century XXI. A court of epic in scale, unique architecture, the splendid art – symbols of a vibrant capital city today were built by thousands of years in the inspiration of a people proud to have exit foreign country yoke thousand years,
reaching its construction background independence, opening for the Dai Viet era.
As
Van Mieu Quoc Tu Giam
– the symbol of national education,  traditional fondness for learning, attitudes respectfully, honoring the talented and righteous people of the nation.
As
Hoan Kiem lake
with The Huc bridge, Ngoc Son temple sparkling water-polo, symbol of the aspirations of peace – harmoniously, the soul of Hanoi have
reached inspired poetry …
That is the old town – which kept the hallmarks of a "Hanoi 36 streets and district". The name: Hang Ngang, Hang Dao, Hang Bong, Hang Gai, Hang Bai, Hang Chuoi… not just a simple street name, but behind each name is its excellent handicrafts, a nostalgic concept of history. Hang Bai old one is chosen as Tam Cuc, To Tom(Card game using deck of 120 card and played by 5 persons) … serve for unstudied entertainment indispensable in every family, village in fun days, festivals or Tet. Hang Bac suggestive name of generations of refined talent worker carve golden and silver to do luxuriance of king palace, lords temple, to respect the beauty of lovely Ha Thanh girls.
Hang Chuoi street on shady trees keep this in the name of memory about  innumerable banana area that the ancient using to tend elephant for the king. Hang Dan street where like the iridescent iridescent of the monochord (Vietnamese meaning: Đàn bầu), 16- chord zither (Vietnamese meaning: Đàn tranh), Vietnamese two chord guitar  (Vietnamese meaning: Đàn nguyệt) …  with the footsteps of actor and beautiful woman … and also how much more sexy name when
touching each leaves, trees, a glimpse of the ancient tile roofs…
| | | |
| --- | --- | --- |
| | | |
| Hanoi city gate | Dong Xuan market | Trang Tien street |
As 5 city gate, as Dong Xuan market and Trang Tien street, as the passionate flavor of milk flower, a ding-dong of sound  tram around  Hoan Kiem lake spread Cua Nam, Cau Giay, Buoi market, Mo market today. It's very interesting if you know Hanoi young people in industrialization with their parents sitting on the train ran out of  Hoan Kiem lake eat ice cream sticks, peacefully
watching the tortoise tower in Hoan Kiem lake with graceful willow.
| | | |
| --- | --- | --- |
|   | | |
| La Vong fried fish | West lake shrimp cake | Thanh Tri steamed rolled rice pancake |
As "La vegetables, Lang egg-plant", as Thanh Tri steamed rolled rice pancake, La Vong fried fish, West Lake crisp shrimp pastry, Hanoi Pho, as the Vong green rice flakes … each dish is a attractive taste no palace copy.  Eating and dringing arts to be a part of the subtle cultural and human Hanoi.
As Ba Dinh square where President Ho Chi Minh read the Declaration of Independence, the birth of Vietnam Democratic Republic of the September 2, 1945 history, as the solemn & unstudied mausoleum of President Ho Chi Minh that permanent the song by stone, in leaf green flowers from all over the country meet, pervasive flavor, cool cover, keep quiet to sleep healthy of Nguoi in the heart of the nation.
Hanoi symbol are famous man, great personality made to bring fame to Hanoi and the nation. There are famous man born in Hanoi, and there are people weren't born in Hanoi but name and their career forever immortalized in Hanoi. They really are the sacred symbols of the culture of Thang Long. It is people like Ly Cong Uan – intelligence king has chosen this land to the city for forever descendants with inspired of era to rising ourselves liberation .
Ly Cong Uan is not only sacred land by the name "Thang Long" actually he opened an era of "Thang Long" for Vietnam. It is also people like Ly Thuong Kiet, Chu Van An, Nguyen Du, Ho Xuan Huong, Nguyen Tri Phuong, Hoang Dieu, Van Cao, Nguyen Dinh Thi … and many famous people succeed to each other through  century, typical for chivalrous and elegant Hanoi …
It's difficult to say all the cultural symbol of Hanoi through time but each generation human in Hanoi must have discovered the secrets of the past that we know to love, respect about heritage that  ancestors leave and create symbol for a Hanoi today and the tomorrow.
Hanoi Tour
These specially-designed Hanoi day trips focus on the diversity and history of this fascinating city and coincide with the 1000 year celebration of the capital in 2010. Led by a history professor or a local university student, you will gain insight in the past millennium of Hanoi and glimpse into what is in
store for the future.
(Source: visithanoi.blogspot.com)