Streams and waterfalls give romantic Da Lat a 'tough' reputation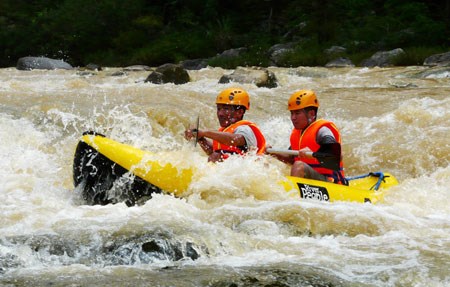 Visitors go kayaking on the La Ba River, a new thrilling adventure in Da Lat
Da Lat evokes the leisure of a hillside resort, the romance of lakes, flowers and misty mornings, but it has a dangerous and thrilling undercurrent as well.
The Central Highlands town in Lam Dong Province is a veritable paradise for a series of adventure sports – rock climbing, abseiling, parachuting or biking on rough terrain.
Attesting to the growing popularity of these sports and of Da Lat as an adventure-sports destination are nearly 10 service providers at the end of the sloping Truong Cong Dinh Street. These establishments have professional trainers and instructors, some trained abroad.
For the young and strong at heart, riding elephants, biking up Lang Biang Mountain or climbing down cliffs of the Prenn Falls and overnight stays in the forest are "relaxing" activities.
Among the most adventurous activities on offer is an exploration of the seven-storied Datanla Falls.
On the third floor of the fall is a cliff 20 meters tall that stands almost upright. Passing it is a challenge that is rewarded by gently flowing water on the fourth floor, but the real adventure awaits on the sixth floor with a 25-meter high cliff and a whirlpool. Its decision time… do you accept yet another challenge?
The magnificent seventh floor of the waterfall is sometimes referred to as the "washing machine" because of its crazy, whirling waters.
HOW TO GET THERE
By motorbike: Take National Highway 1A from Ho Chi Minh City. Turn to National Highway No. 20 at Dau Giay T-junction. Da Lat is 306 kilometers from HCMC.
By bus or car: From the Mien Dong Bus Station in HCMC's Binh Thanh District. It takes 7-8 hours and costs around VND100,000 (US$5.14) a ticket. Call (08) 3 836 9859  to book one with Dalattoserco or (08) 3 837 5570 with Phuong Trang, which also drives tourists to Da Lat from Nha Trang (call (058) 3 524 315 – 3 524 945) and Da Nang (call (0511) 3 899 899)
By plane: A 45-minute flight takes off from HCMC's Tan Son Nhat International Airport at 11:10 a.m. every day. There is an additional flight departing at 3 p.m. every Thursday and Saturday. Two flights leave for Da Lat from the Noi Bai Airport in Hanoi every day.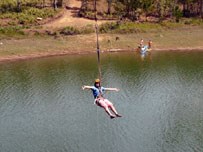 Crossing the Tuyen Lam Lake on a rope
If you want a quick way down, a roller-coaster like contraption has been rigged up, adding to the excitement.
All these thrills and danger does not mean safety is not given priority. It is. Trainers will cancel the whole tour at the slightest hint of something unusual, weather-wise.
Vo Duc Trung, director of one of the units, said international schools from Hanoi, Ho Chi Minh City and Thailand and several foreign-invested companies have in recent years been sending students and employees on these tours as a way to build up their courage, creativity and adaptation skills, not to mention to confront and solve problems.
Ngo Anh Tuan, a manager and trainer with Da Lat Discovery Travel, told the Lam Dong newspaper that their new tour – crossing the La Ba River on a rubber dinghy – led tourists to feel proud of their own courage and survival skills.
The tour begins with around 45 minutes of warm-up exercises after which they can enjoy the Hang Cop (Tiger Cave) Waterfall and a walk through a pine forest, pass several hills and walk down to the La Ba River.
Here, rubber dinghies wait. Trainers distribute lifejackets and instructions on rowing it through rough waters and tell you not to panic even when the boat capsizes.
This adventure takes about three hours, during which a seven-kilometer stretch of the river and eleven rocky waterfalls are navigated. After a well-deserved rest, there is another sixty-minute walk through forests to reach National Highway No. 20 before heading back to downtown Da Lat.
The rowing journey costs US$60 a person.
Tuan recalled that a US tourist named Justin had emailed him after returning home, saying he keeps missing the adventure that was "full of joy and excitement."
Reported by Lam Vien