Despite it is in summer or winter, and the days are foggy or full of sunshine, Moc Chau Plateau is always attractive with its dreamlike beauty.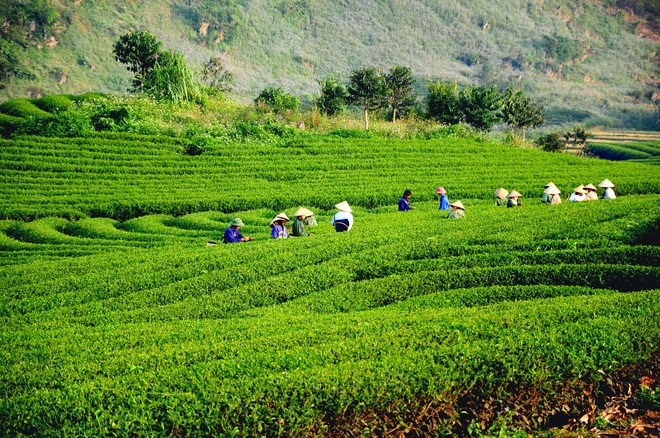 Tea hill with fresh green in Mock Chua Plateau
Located in Son La province, at a distance of 200 kilometers from Hanoi, Moc Chau Plateau is 1,050 metres above the sea level, with an area of about 80 kilometres in length and 25 kilometres in width.
Moc Chau Plateau is famous for a large herd of milk cows, immense tea hills, big gardens of plum and apricot – tree, and large pastures of about 1,600 hectares.
The milk cow in Moc Chau is the black and white cow race of Holland. From this large herd of cows, Moc Chau has developed the experience tourism so that tourists can feed the cows and do the milking themselves.
This kind of tourism also offers tourists to enjoy the fresh pure cow's milk and have camping over night right in the pasture.
It would be totally relaxing and comfortable to walk on the hill slope of green and soft grass and enjoy the fresh cool air around. Scattered everywhere are the white flowers and in the distance are the green hills hiding in the shadow of the clouds. All those things just make the landscape here so dreamlike.
Tourists can also prepare meat or buy some from the small restaurants in town to have a roasting meal at night just like nomadic people.
Climate is a special tourism resource of Moc Chau Plateau. Usually, the medium temperature is just 200C, with cool summer and dry winter. The autumn and spring in Mo Chau is the season of tea and pine tree. That is the time when the whole plateau will be covered with a beautiful and fresh green color.
One more outstanding point of this place is the Dai Yem Fall. From Pa Hang border gate in Long Sap commune, Moc Chau town, go along the main road about 4 kilometers, there is a junction of two streams, where the fall starts.
Going through the forest, down to a short and sloping section, tourists would see the two streams pour water down from the height of about 100 meters.
Dai Yem Fall stays below the road surface. The lake under the fall is always clean and clear all year round. The scene around is very natural and wild, which makes its beauty so impressive.
A trip to Moc Chau Plateau will promisingly refresh travelers with joyful and peaceful feelings.
(Source: SGGP)