Like other destinations in Vietnam, Saigon has its own specialties that you shouldn't miss. In this article, we will provide you 5 streets for food that you can try most of the unique dishes of this city.
1. Van Kiep Street
Address: Border of Phu Nhuan & Binh Thanh districts
Located between the two most vibrant districts of Saigon – Phu Nhuan and Binh Thanh, Van Kiep Street is an amazing well-known collection of Vietnamese specialties. There are over a hundred kinds of food for you to choose here. A lot of young Vietnamese often go to this street for chitchatting and eating.
There are three outstanding specialties making Van Kiep Street popular to the youth, which are grilled octopus (230 Van Kiep), bánh canh cua (63 Van Kiep Street), and bún mắm (close to the intersection of Phan Xich Long Street). Some other dishes that you should try: bún chả, nem nướng, chè, etc.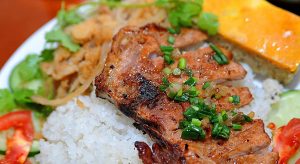 2. Su Van Hanh Street 
Address: District 10
Su Van Hanh Street is one of the most famous food paradises in Saigon. Most of every dishes in the world are sold here. Vietnamese, Japanese, Korean and Singaporean dishes, Western fast foods, different kinds of dessert, and beverage are its main features.
This street is famous for bánh xèo – a Vietnamese crispy pancake with pork, shrimp and bean sprouts inside. Mì vịt tiềm is also a must-try dish here. It is a kind of noodles soup in Vietnam (the duck meat is mixed with herbs and spices, then fried and stewed, making the meat soft and easy to eat; the long and tough noodles are made from eggs and flour). You can also find a unique Vietnamese dessert stall. It is on the corner of Block H, which has various different kinds of Vietnamese dessert.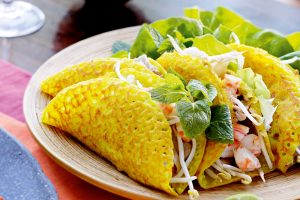 3. Vinh Khanh Street 
Address: District 4
Talking about streets for food in this city, Vinh Khanh Street shouldn't be missed. The street is not only vibrant for food scene but also for entertainment activities. There are karaoke, street dancers, as well as people performing eating fire on this street. Seafood is the highlight specialty here.
When you are at this street, you should go to Ốc Oanh (534 Vĩnh Khánh Street) for a diverse of seafood. The seafood here is cooked with different ingredients so that each dish has its own unique flavor. Although the dishes here is more expensive than elsewhere, it is still worth to try. Not far from the intersection of Hoang Dieu Street, there is Quán BBQ Lúa, which is famous for grill-it-yourself barbecued meat.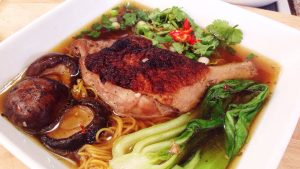 4. Phan Van Han Street 
Address: Binh Thanh District
There are lots of food stalls, shops, houses, businesses, and vehicles on Phan Van Han Street, making it an intimate environment. This is a very dynamic neighborhood where most of the typical Vietnamese street food are represented. The best time to experience its busiest is 6.00pm-8.30pm.
Bột chiên is a popular street food in Saigon. You should try it at the corner of Phan Van Han street and Xo Viet Nghe Tinh street. Bot chien has been serving here for 20 years. One of the most well-known noodle vendors in this area is Lương Ký Mì Gia (1 Huỳnh Mẫn Đạt Street). You can enjoy all sorts of noodles here; however, the outstanding one is mì vịt tiềm.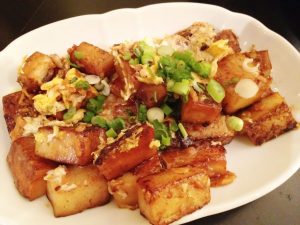 5. Nguyen Thuong Hien Street
Address: District 3
Nguyen Thuong Hien is a one-way street from Dan Chu intersection to Nguyen Thi Minh Khai street. At night, there are hundreds of food vendors and sidewalk restaurants opening to serve food and drink.
This street is well-known for seafood with a lot of places selling oysters, clams, crabs, shrimps, and sea snails. Moreover, this street is also known as fruit juice street of the city. Banh Trang Tron is one of the special dishes of this street that you should try once having a chance to go here. It is a mixture of rice paper, quail eggs, peanut, and other ingredients, which make it a very delicious specialty not only on this Street but also in Saigon.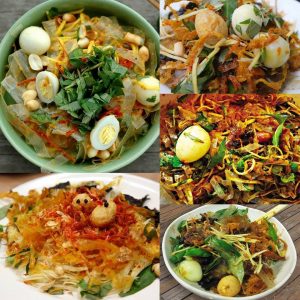 5 streets above are top streets for food in Saigon. Coming to these streets, it is easier for you to try specialties in the largest city of Vietnam. But before your trip, please check out Vietnam visa requirements carefully as Belgian citizens will be needed to have a valid Vietnam visa. There are 2 ways to get one including obtaining visa at embassy of Vietnam in Brussels or applying for Vietnam visa on arrival which is newly preferred by travelers thanks to its convenience and simplicity.
See more https://vietnamvisa.be/top-4-traditional-handicraft-villages-vietnam-belgium-citizens-shouldnt-miss/