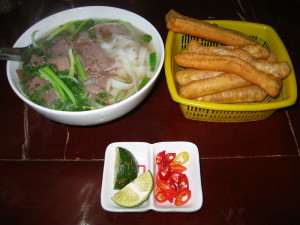 Pho, a typical dish of Hanoi people, has been existing for a long time. Pho is prepered not only in a sophisticated manner but also in the technique which is required to have sweet but pure bouillon, soft but not crasded noodle, soft and sweet smelling meat. Only in cold days, having a hot and sweet smelling bowl of Pho to enjoy would make you experience the complete flavor of the special dish of Hanoi.
The bouillon.
Boil 10 cups water. Burn the whole fresh onions over high heat until golden brown. Add beef spareribs or ox tail into the boiling water. Skim while cooking to make a clear broth. Add browned onion and carrots after 1 hour of boiling. Cook another hour. Then remove meat and vegetable. Strain the bouillon, season it with spices, salt, fish sause as indicated and keep boiling to server very hot soup. Add boiled water, if necessary, to have 6-8 cups of bouillon. This broth is very spicy and a little salty.
Slice tender beef finely and cooked beef coarsely. Soak dry rice noodles in hot water 10 minutes before cooking. Coolk rice noodles sparately until done (about 10-15 minutes), drain in hot water to remove the starch.
Server at once into bowl.
Beef soup, rare: cooked rice noodles 1/3 bowl, raw beef minced on top. Pour over them one cup boiling bouillon. Add bib lettuce, green onion and onion rings.
Beef soup, done: cooked rice noodles, cooked beef, bib lettuce, onion rings, green onion in top. Pour over all ingredients 1 cup boiling bouillon.
Provide the guests with spoons and chopstichs to take the soup.
Source: Vietnam Food