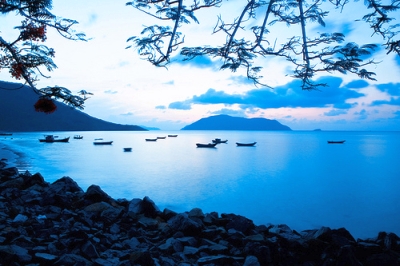 This week the NYT headed off-the-beaten-path in Vietnam in search of a little respite from the hustle and bustle that is the rest of the country, and where they found it may be a little surprising: Con Dao (in Vung Tau province) — the infamous island chain known more for their prisons than for their visitors.
Until recently, the isolated 16-island archipelago of Con Dao (its largest island, Con Son, is commonly called Con Dao Island), 110 miles off the mainland's southeastern coast, was a place most Vietnamese wanted to forget. For 113 years, this island was home to one of the country's harshest prison systems, established by French colonists in 1862 and later ruled by South Vietnamese and American forces until Saigon fell to the North Vietnamese in 1975, at which point the prisons were closed.
Not surprisingly, with this history, few visitors visit the islands to this day. In fact, only about 20,000 visitors stopped by last year, and of those only 2,600 were foreigners. (They compare that number to the millions that head to the popular beach destinations Nha Trang and Danang every year.)
And what should you expect to find? Try some of Vietnam's best coral reefs, empty beaches, varied wildlife, and a huge expanse of protected land (83% to be exact, including the country's only marine reserve). In short, go to escape, go to avoid tourist, and just go.
Source: theexpeditioner.com