It may be chilly in the northern hemisphere as the Christmas holidays approach, so a lot of people are dreaming of hot and sunny beach holidays.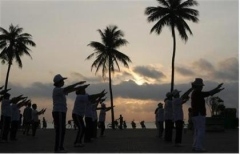 Residents practice morning exercises on the beach in Nha Trang, the venue for the ASEAN+3 Finance Minister and State Bank Governor Meetings, April 7, 2010.
For those with the time and money, online travel advice website Expedia.com.au reveals its Top 10 best beach destinations. Reuters has not endorsed this list:
1. Cable Beach Broome, Western Australia
Located 7 km (4 miles) from Broome, Cable Beach is one of Australia's premier beach destinations. Featuring 23 km of pure white sand and crystal clear turquoise water, the beach is almost perfectly flat and ideal for swimming and surfing. Bordering the Indian Ocean, and surrounded by the vast inland wildernesses of Western Australia, Cable Beach has an atmospheric "last outpost" feel. Travelers can explore the exquisite beach on foot or by four-wheel drive. Cable Beach is also renowned for its sunsets, which can be enjoyed whilst riding a camel along the beach, or from the comfort of one of the many beach-side restaurants.
2. Ao Nang Beach Krabi, Thailand
Ao Nang is known as Thailand's best all-round beach destination, due to its central location in the Andaman Sea and magnificent scenery. Ao Nang beach is relatively unspoiled and days can be spent relaxing by the shore or taking part in one of the many activities on offer, such as, snorkeling, scuba diving and kayaking. The beach is also conveniently located to restaurants and bars. The equally spectacular Railey Beach is only a 15-minute ferry ride away and is approximately two hours from Phuket.
3. Nha Trang Beach Nha Trang, Vietnam
Nha Trang is the known as Vietnam's premier "traditional" seaside resort – a lively seaside town where travelers relax by day and party by night. Surrounded on three sides by mountains, Nha Trang Bay is considered among the world's most beautiful bays and one of Vietnam's best beaches. The beach is long and flat, with golden sands and spectacular views of the surrounding mountains. It is also the gateway to a cluster of quieter islands which offer outstanding snorkeling and scuba diving trips.

4. Paradise Beach & others Yasawa Island, Fiji
Yasawa Island is famous for its fine sand and exquisite beaches, including Paradise Beach and Champagne Beach, and its limestone caves, which put the Island on the map when "The Blue Lagoon" blockbuster movie with Brooke Shields was filmed there in the 1980s. Yasawa Island, the largest of about 20 volcanic islands in Fiji's Yasawa island archipelago, is renowned for its spectacular rugged scenery and palm-fringed white sandy beaches. Yasawa Island is the only island in this outlying archipelago with an airstrip.
5. Azeda Beach Búzios, Brazil
Armação dos Búzios (better known as Búzios) is a peninsula surrounded by 8 km of islands and beaches, and made famous in the 1960s when film star Brigitte Bardot passed through, drawing the attention of adventurous tourists around the world. The beach is now dotted with hip restaurants, bars and boutiques. Búzios' premier beach, Adeza Beach, is considered one of the prettiest in Brazil. Accessible on foot, the beach boasts a 300-meter (yards) stretch of fine white sand and crystal clear water. With waves virtually non-existent, it is perfect for snorkeling.
6. Lanikai Beach Oahu, Hawaii
Located about 30 minutes' drive from Honolulu – in the town of Kailua – Lanikai Beach is a 500-metre stretch of powdered sugar sand, and a perfect spot for travelers seeking a quiet, remote location to relax. It is sheltered by a wide, protective offshore reef and has a clear view of the spectacular Na Mokulua islands, certainly living up to its translated name, "heavenly sea."

7. Isola Bella Beach Taormina, Sicily, Italy
Located on the east coast of Sicily, with views of Mt Etna, and protected by the bay and mountains, Isola Bella beach is without a doubt one of Sicily's most prized natural assets. The beach is located close to Taormina, a quintessential Italian beach town, and a popular holiday destination amongst artists and celebrities. The beach features pebbles rather than sand, typical of many European beaches, and crystal clear water, making a dip during the hot Italian summer irresistible. Depending on the tide, beachgoers can walk to Isola Bella, the nature reserve on the tiny islet adjoining the beach, or swimmers can swim or snorkel around the island. Taormina itself is a charming town and perched on the cliffs above its gorgeous beaches, which can be reached by an aerial tram.

8. Clifton Beach Cape Town, South Africa
Actually four adjacent beaches separated by giant granite boulders, and set against the most spectacular backdrop of the majestic Twelve Apostles mountain range, Clifton Beach is considered one of Cape Town's "glamour" spots – where the rich and famous live and beach-loving locals and tourists go to relax. Each with its own identity, 4th Beach is the most popular and entertains beachgoers with volleyball and Frisbee. Although sheltered from the prevailing Southeaster in the summer, the chilly Atlantic Ocean means a quick dip is all that is required to cool down from the baking sun. The best time of the day is just before sundown, as you can kick back to watch the sun set over the sea.

9. Seven Mile Beach Negril, Jamaica
Located in the heart of the Caribbean Sea, the island of Jamaica has long been the playground of sun worshippers the world over. On its western shores – at Negril – is Seven Mile Beach. Close to scores of hotels that hug the curved shoreline, it is the longest continuous stretch of beach in Jamaica. At the end of the beach is a lighthouse, with majestic views of the surrounding cliffs and spectacular rock formations. The beach is popular with families, but there are plenty of activities to keep everyone entertained including snorkeling, kayaking and glass-bottom boat tours.
10. Mughsayl Beach Salahah, Oman
Salalah, in southern Oman, has a unique charm with its coconut groves and banana plantations growing right to the water's edge. It is also blessed with great beaches – popular for swimming and beach football. Mughsayl Beach is one of the most popular of Oman's 2,700 km of untouched sandy beaches. The golden sands and sparkling water contrasting with the rough mountains and cliffs, make Mughsayl a truly memorable and visually unique beach experience. During rainy season, the huge waves cause dramatic explosions of water through blow holes at one end of the beach. Mughsayl Beach is approximately 45 km from Salahah City, but certainly worth the trip.