8 Dec, 2010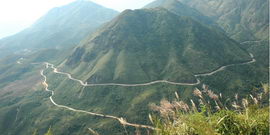 Travel to Vietnam, visit Sapa and beautiful north allows visitors to experience authentic tribal life, writes Rob McFarland.
Teetering down steep stone stairs in inappropriate shoes and tight white designer jeans is a young, affluent Vietnamese woman. She's holding a multicolored umbrella to protect her from the sun and is being led carefully by the hand by a private guide.
Coming up the other way is a young girl from the local Black Hmong hill tribe, dressed in an embroidered jacket and wearing the tribe's trademark black hat. Her face is creased with effort as she struggles with a large basket of sticks strapped to her back. She stops to let the descending woman pass and they exchange a glance that speaks volumes about the extremes of modern-day Vietnam.
Although technically still a communist country, Vietnam is now home to a generation of youngsters who've embraced capitalism. Hanoi and Ho Chi Minh City have the sort of designer boutiques and high-end restaurants you'd expect to find in any fast-paced Asian city.
And although both are compelling destinations, if you're looking for a respite from the chaotic din of motorbike horns and the extreme sport of crossing the road, you need to head north and, in particular, visit a beguiling hillside town that's nestled among some of the country's most spectacular scenery.
Sapa was once an old French hill station but has developed over the past 20 years into a popular tourist destination. Travellers are drawn here by the dramatic landscape of mountain peaks and plunging valleys and the chance to interact with the locals.
Travel to Sapa, which is located 380km north of Hanoi, is an adventure in itself. After stocking up on biscuits and beer at Hanoi train station, we drag our luggage across several sets of tracks to board the overnight train to Lao Cai.
Our final destination is the swish Victoria Sapa Resort & Spa and, if it wasn't a Saturday night, we'd be delivered there in a velvet and mahogany-panelled carriage of the resort's private train. Unfortunately, tonight is the one night it doesn't run so we're on an older, shakier version.
We arrive at Lao Cai in the murky pre-dawn light and watch the market town come to life. Normally you'd take a 1.5-hour bus transfer straight to Sapa, but today we're making a detour to one of the region's must-sees: the Sunday market at Bac Ha.
Local minority groups from around the north-west congregate in Bac Ha each week to trade and socialise. Beautifully dressed hill tribe women in embroidered dresses and bright headscarves barter and laugh while a lazy procession of motorbikes, horses, carts and water buffalo ambles by. Wicker baskets full of live pigs and chickens are prodded while, nearby, raw meat is hacked apart.
Our onward journey to Sapa reveals tantalising glimpses of the Alps-like scenery for which the region is famous. As we climb into the clouds, verdant valleys plunge away from us on all sides to reveal hundreds of metres of carefully terraced rice fields.
With its polished wooden floors and cosy feel, the Victoria Resort is a welcoming haven at the end of our trip. Rooms are on the small side but are beautifully furnished with antiques and local handicrafts.
Sapa is a much bigger tourist destination than Bac Ha market and inevitably it has a different feel. Expect to be surrounded by grinning, trinket-laden hill tribe girls the moment you step outside, and much of the market here is devoted to souvenirs rather than essential supplies for locals.
Although you could easily spend a couple of days ambling around town, the big drawcard is the chance to get among the scenery and interact with the local people.
The next day we set off for Cat Cat, a small Black Hmong village 3km south of Sapa. The second we emerge from the hotel we're befriended by a group of Hmong women who pair off so we each have a guide. Their grasp of English varies, but all have mastered the basics: "Where you from?" and "How old are you?". Particularly important is "You married?" and when I reveal I'm not at the prehistoric age of 37, my companion looks shocked and cries, "Why not?"
Getting hitched is a serious business around here and the hill tribes engage in some interesting wooing techniques. As recently as a decade ago, men would kidnap girls from a neighbouring village to trial them for marriage. If they got on she'd stay, if they didn't she'd be returned. Weekly love markets to pair off youngsters were also commonplace, although an unhealthy interest from tourists has all but stamped these out.
The village of Cat Cat comprises simple wooden shacks along a steep path that leads to a waterfall. Many locals have set up stalls outside their houses selling scarfs and jewellery, and gorgeous children chase each other around courtyards.
It's here that I witness the glance between the affluent city girl and her basket-laden hill tribe counterpart. To be fair, both look equally uncomfortable in the 30-degree heat.
The following day we tackle an even more spectacular trek, starting at the Black Hmong village of Lao Chai and passing through the Giay village of Ta Van as we follow a stream along the valley floor. It's all camera-happy stuff, but I already know that it's not what I'll remember most. The enduring memories will be of those little glimpses I've gained of day-to-day life for the minority groups that eke out an existence here.
On the way back to Sapa, we pass two children herding a pair of enormous water buffalo along a ridge. At one stage the giggling little girl clambers on top of one of the animals and lies down while her brother shepherds them along with a stick. It's about as far away from inappropriate shoes and designer jeans as you can get.
(Source: nzherald.co.nz)