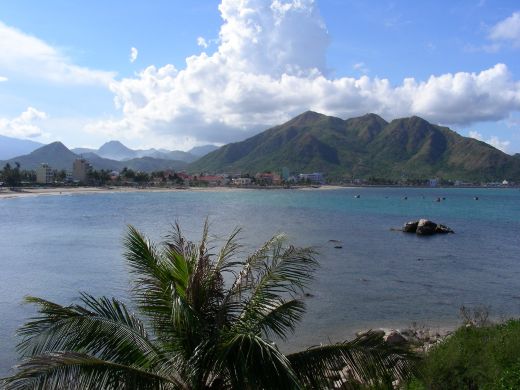 Nha Trang, Vietnam
Combining a beautiful, if sometimes crowded beach with a lush inland area and a rich sampling of antiquity, Nha Trang is one of Vietnam's most attractive destinations. Known in backpacker circles for its underwater diving and its beer soaked boat cruises, Nha Trang is a unique place with much more to offer. (Yes, the boat cruises are a blast, though).The beach in Nha Trang is quite heavily visited by tourists, both foreigners and Vietnamese. As a result, certain things are expensive. People looking for a suntan will be pestered by hawkers selling fresh seafood or trinkets. They will cook the seafood right there for you, but the price will be highly inflated. Bars like, The Sailing Club are posh but popular, but by no means the norm in Nha Trang. Cheap eats can be had in town, as can cheap beverages.
The Cham temples are on a hill overlooking the harbor in Nha Trang. The site itself is usually crowded and the atmosphere more like a carnival than a holy site. The view of Nha Trang's harbor is worth the hike up the ill, though. The crowd of colorful fishing boats makes the harbor seem timeless and picturesque.
Wandering Nha Trang city streets is not as rewarding as, say, Hanoi, in terms of sightseeing, but some of the local street stalls serve tasty and hearty fare. Bia Hoi (fresh beer) stalls pop up at night time and offer a dirt cheap alternative to pricey sea front bars. That said, some of the seaside cafes offer reasonable priced food. Many specialize in seafood.
Boat trips to the islands off Nha Trang's coast are crowded, and basically just a place for tourists to socialize with one another. Some offer food and snorkeling and (copious amounts) or booze.
Yes, many of the boat rides are simply tourist traps, bu Nha Trang is also the only place in Vietnam to do serious scuba diving. Dive shops are almost all certified and snorkeling or diving trips to the coral reefs off Nha Trang's coast are reasonably priced and recommended by experienced divers as well as novices. Nha Trang is also the place to get your divers certification should you want or need it.
Getting a guide and going trekking inland is perhaps the least known activity in Nha Trang. Traveling through rice fields and small, colorful farm villages is makes getting to the mountains half the fun. There are several mountain streams worth trekking up. Guides in Nha Trang will be able to arrange a trip, sometimes with a meal in one of the farm villages. This is probably the most underrated way to spend a day in Nha Trang.
Nha Trang is developing into a world class resort area. However, it still retains some of its small town charm, and offers more than just sun-tanning and surf.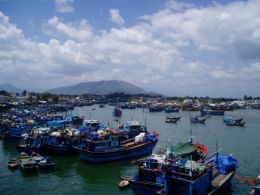 Nha Trang Fishing Boats