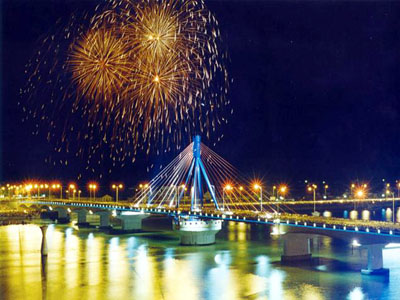 In Hanoi, the Tourism Promotion Center (Danang's Department of Culture, Sports and Tourism) introduced tourism promotion program and new tourist products of the city on Feb 18th.
The event attracted the attendance of more than 150 travel companies of Hanoi and Danang who want to share experience and look for chances in travel business as well as contribute to promote the tourism images of the 2 cities.
The event's theme is "Sparkling Han river". It is also the name of the international fireworks contest which will be held on April 30th 2011.
Vice Director of Danang's Department of Culture, Sports and Tourism, Mr. Nguyen Minh Nhon said in 2011, the city will develop many new special tourist products to satisfy the demands of domestic and oversea visitors. He also mentioned the most modern and biggest museum of Central Vietnam- Danang museum which has just opened on Tet holiday. The museum is a place to keep and develop special cultural values, promisingly an attractive destination of the city.
Many tourist products will be developed to welcome visitors such as traveling by helicopter, "Tourist Heaven" tour, visiting Son Tra peninsula, diving, fishing tours…ect.
In addition, visitors will have a chance to experience adventure games on the sea, enjoy local special foods as well as learn more traditional culture through performances of art…
Danang is one of the biggest tourism centers of Vietnam, having many potentials and advantages to develop and promote tourism to the world.
Further information about danang hotel, please visit the website http://Vietnamhotels.net/.
Source: TITC