Gone are the days when Nha Trang was a sleepy little beach town. In the last decade, this central coastal town has developed into an international tourist destination, complete with the hustle of trade and bustle of tourists.
But if you're truly looking to get away from the resorts in  Nha Trang, head out 45 kilometres to the charming Doc Let Beach.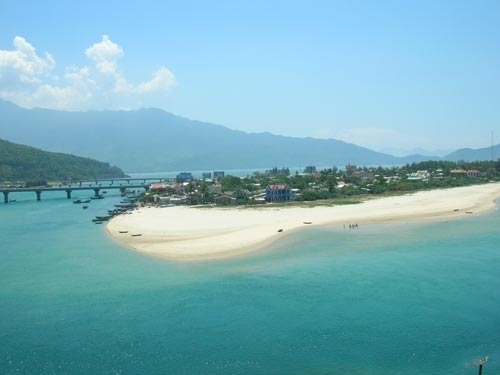 Doc Let, or Doc Lech, literally means "a hill one needs to crawl over." Indeed, we had to crawl up the white sand dunes lining the beach before we could see the aquamarine waters.
Doc Let stretches over 10 kilometres and is largely undeveloped. On our drive up the coastal road, we found few hotels and restaurants.
Doc Let has the shallowest waters in all of Khanh Hoa Province. Along most of the beach, the sea is only half a meter deep even 100 meters from the beach. The crystal blue waters beckon even those who can't swim, and time passes quickly as one luxuriates in the warm, tropical waters.
While most parts of Doc Let are free from tourist traps, a small stretch has been developed into the Doc Let Tourist Park. Fresh seafood stalls serve crabs, snails, clams, and squids under the shade of the casuarina trees dotting the beach.
HOW TO GET THERE
– Doc Let Beach is located in Ninh Hai Commune, Ninh Hoa District, Khanh Hoa Province.

– To get to the beach from Nha Trang, take National Highway 1A heading north. About a kilometre after passing Ninh Hoa Town, turn right onto a small road. Continue for another 14 kilometres to reach Doc Let.
Water spinach grows wild along the seashore at the Cat Trang (White Sand) Tourist Park, forming a green carpet adorned with violet flowers.
When the tide is low, crabs scuttle hurriedly across the beach, barely visible against the white sands. I tried hard to get close enough to get a picture, but the crabs are wary of humans, and disappear into their sandy homes in seconds.
If lazing around is not enough, get into some action with water sports. Boats and jet skis are available at the beach for VND150,000-250,000 (US$8-13) for 30 minutes.
For a breathtaking view of the waters, head for the skies. Parasailing costs VND450,000 for 15 minutes.
In the summer, Doc Let is surrounded by the Hon Khoi salt fields. Mountains of salt make for a unique landscape.
At a village near Hon Khoi Port, fishermen use round boats or coracles to go fishing every morning.
Doc Let Beach is near the famous Van Phong Bay, which is being developed as a tourist destination. There are a range of hotels and resorts near the bay as well as entertainment activities.
Source: Thanh Nien