Lying about 100km to the North from the coastal city of Nha Trang, Mui Doi – Hon Dau has been becoming popular to visitors, especially the young ones, thanks to its beautiful rocky promontories jutting out the sea. This tourist spot belongs to Hon Gom Peninsula, Van Thanh Commune, Van Ninh District, Khanh Hoa Province.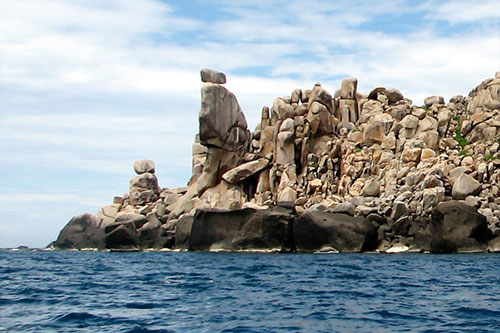 Reaching Mui Doi – Hon Dau, you will have a chance to admire the spectacular pieces of rocks as well as to catch the first sun rays in the east pole of the S-shaped country of Vietnam.
While the north pole of Vietnam is in Lung Cu Commune (Dong Van, Ha Giang), the south pole in Rach Tau Cape (Ngoc Hien District, Ca Mau) and the west pole in A Pa Chai – Ta Mieu (Sin Thau Commune, Muong Nhe, Dien Bien), Mui Doi – Hon Dau is regarded as the east pole. For those traveling to Nha Trang, Mui Doi – Hon Dau is surely an ideal place for picnics and camping for young people.
Endowed with spectacular natural beauty, Mui Doi – Hon Dau was acknowledged as a national scenic relic by the Ministry of Culture, Sports, and Tourism in 2005. It is highly expected to be a tourism destination in Khanh Hoa coastal province in particular and in Vietnam in general.