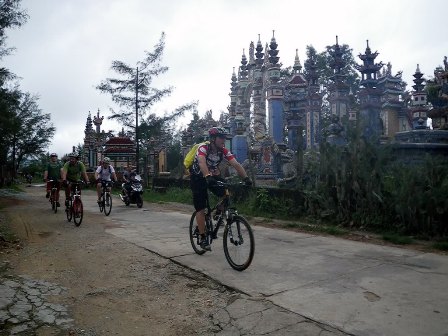 In the past few years, besides Tombs, temples, pagodas etc. Hue tour visit village has attracted many foreign visitors. What is the reason for this attraction of Hue tour?
Going with a group to visit Thanh Toan village, we got acquainted with a young American girl asking about her reason for this visit, she said: " the air is fresh, the village is peaceful and remains its soul of Vietnam.
With this short Vietnam tour, I think I understand more about local people, their working day, their relationship etc.
It is very interesting to explore a different culture in a typical village like this by yourself". A French visitor shared her thinking:
" I can not expect for more! Modernization sometimes makes us bored, what we want to do is to explore and experience ourselves. This is a full feature of small Vietnam, I think I have become a Vietnamese even in a short day".
Hue is very rich in culture which has deep influence on the life-style of surrounding villages. I think that tourism should not be rigid. Mixture of destinations including village visiting is a good way to introduce and to help foreign visitors have a better view over of Vietnam travel, country, people, culture and history. Each countryside has its own features including villages. Like foreign friends, many Vietnamese people living in cities often come back their villages where they were born and brought up in the weekend as a short vacation to find peace, breathe in fresh air. Vietnam is on the move but traditional value of many villages has not changed!
(Source: internet vina)