Modern life in Hanoi may seem a million miles from tradition but just 15km north is Cu Da Village – where poignant reminders of history still live on.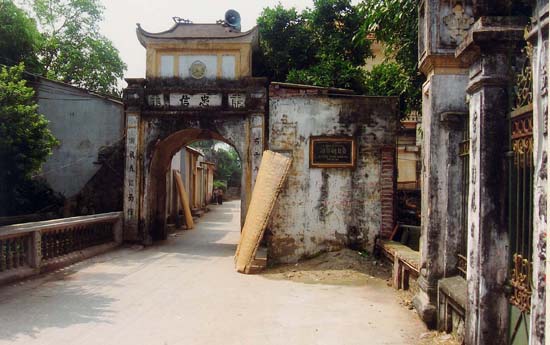 The old gate leading Cu Da's ancient houses
Cu Da Village in Thanh Oai District is the perfect place to spend a lazy Sunday exploring Northern Vietnamese culture.
Cu Da is not only famous for its two specialties of mien (vermicelli made from a kind of tuber plant similar to cassava) and tuong (soya sauce) but also well-known nationwide for its big ancient houses and villas with beautiful architecture typical of Northern Vietnam. The village is an ideal place to explore the culture of the Red River Delta region.
Cu Da Village was a land of rich merchants hundreds of years ago, when almost all villages in Vietnam were still deep in poverty, these two villages were already well-known as prosperous locales that had big brick houses, clean paved roads and well-off people. Besides houses boasting ancient styles of Vietnam, the extrovert merchants in Cu Da also built many French-style villas, very popular at that time.
Today, after more than a hundred years, visitors to the village are still surprised and attracted by the charms of the ancient Viet-styled houses or the French-styled villas, the vaulted gates and the roads paved with slanting bricks. The village has nearly 200 such ancient houses and villas, of which about 50 remain unchanged through time. The main village road runs along Nhue River and every small lane has a vaulted gate. The village also has a pagoda which has been recognized as a national relic. The houses, the roads, the pagoda here feature a beautiful picture of a rich Vietnamese village at the beginning of the 20th century and now are a precious heritage that lures many visitors.
According to the elders, Cu Da Village has existed for hundreds of years. In the past, it was situated in a very good location which was near Nhue River, Ha Dong Town and Thang Long, Hanoi. Nhue River used to be a busy waterway for traders between Hanoi and Cu Da, making the village a centre providing rice, fabric and other commodities for Hanoi.
Therefore, many villagers became very rich and the village was soon built like a town where, unlike other hamlets in Vietnam, all the houses and villas had numbers.
One of them is house No.11, owned by Trinh The Sung. It was built in 1874, and features architecture typical of the Nguyen Dynasty. It was low, mainly made of wood, with delicate carvings on the beams and pillars. The roof was made of yin-yang tiles. There was an ancestral altar, panels and parallel scrolls in the middle of the house.
Not very far away, the two-storey house of Dinh Van Tuong's family at No. 152 was built in a French style. It was built more than 100 years ago by Tu Bang, a wealthy businessman in the village. Tuong has just bought it for nearly 30 years. The house's walls, yard, and gate have been covered with moss. Its first storey was decorated with occidental patterns, floor paved with stone tiles. The second floor was ruined in 1947 in a battle against French colonialists. Although the house has been greatly affected by time and war, it is still very charming and attracts a lot of visitors.
Many other ancient houses in this village have similar stories. However, the ancient houses in Cu Da are not being preserved properly due to the rapid urbanization process of the capital. Visitors to Cu Da Village may feel sorry to see such cultural heritages decaying beyond repair.