By Hai Duyen in HCMC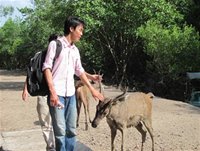 Tourists pat a deer at Vam Sat Ecotourism Area in HCMC's Can Gio District
Situated about 50 kilometers from the center of HCMC, Vam Sat Salt-Marsh Forest Ecological Tourist Zone in Can Gio District, is one of the city's oxygen lungs and a popular venue for day trips.
The diverse fauna and flora make it ideal for scientific research, ecological tourism and rejuvenation.
A sanctuary away from vehicle noise and exhaust, millions of trees send oxygen back into the atmosphere, one of the reasons why it is recognized as a world salt-marsh biosphere reserve.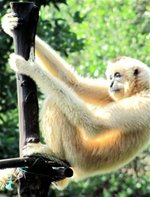 One of the gibbons at Bat Swamp – Photos: Hai Duyen
Visitors can enjoy fishing, cruising, watching wildlife, walking on bamboo bridges and tasting the local specialties.
The tour starts with a hired motorboat at Dan Xay Bridge accompanied by female guides in traditional costumes. The boat follows the canals under the tree canopy.
After about 20 minutes, you will arrive in Bat Swamp, where you can see troupes of monkeys and bats in the tree tops. You can also try your hand at catching one of the local crabs so you can eat its giant claws for lunch.
Saying goodbye to the Bat Swamp, the tour takes you crocodile fishing at a crocodile farm, swimming in the sea, or feeding monkeys and deer.
The view of the mangroves from Tang Bong Tower is not to be missed. The binoculars up there make it easy to spy on the forest's many water fowl.
Visiting Vam Sat Eco-Tourist Area by boat from HCMC is a new way to see the mangroves. The journey starts from Bach Dang Wharf in the very early morning. Visitors can also head to Binh Khanh ferry station and then take an hour long bus ride to Dan Xay Bridge.