As eco-tourism gains popularity, more tourists are opting to take bike tours.

by Thanh Ha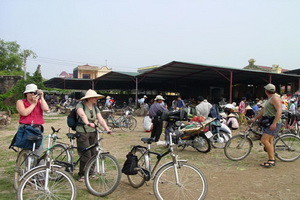 A cycling tour in the northern province of Ninh Binh was one of Rett Townsley's favourite activities while travelling around Viet Nam.
"It was not my first bike tour but I have not ridden a road bike in several years. It was a good tour, even though it was very tiring. It definitely left me with a lot of good memories," Townsley says.
Townsley is among a small group of tourists who travelled to Ninh Binh's Hoa Lu District, the nation's former citadel, which lures millions of local and foreign tourists every year.
A bus leaves Ha Noi early every morning for the two hour journey to the district. Townsley and his partners book rooms at the Xuan Hoa Hotel, which is said to provide the best travel services in the district, such as meals, rooms, bikes and tour guides.
The hotel provides an excellent jumping-off point for tourists to enjoy a visit to the ancient Hoa Lu citadel which was the country's capital city for the Dinh dynasty (968-980) and the tien Le (Earlier-Le) dynasty (980-1009).
Maps to these destinations are free from the hotel. Townsley and his friends pay VND20,000 (US$1) for their bikes and share the $10 for a tour guide to show them around for a full day.
It takes Townsley and his friends nearly one hour to travel the 12km to the citadel, where they admire the temple of King Dinh Tien Hoang, who developed Hoa Lu as the capital and set up the first centralised feudal State in Viet Nam. They also enjoyed the temple to the first king of the tien Le dynasty, King Le Dai Hanh.
Their next destination is Tam Coc-Bich Dong, also known as Ha Long Bay on land. The area is home to an awesome stretch of giant limestone karsts jutting out of the rice paddies on the banks of a small river. Townsley and his friends leave the bikes aside for a short time to travel by boat through this secluded oasis away from the haze of the big city.
If they have planned for an extra day or two of holiday, the group can sail on to the Trang An Eco-Tourism complex, which is said to host a world of natural and cultural heritage.
With its striking limestone mountains, caves and clear streams, combined with the ruins of the former capital at Hoa Lu, the area annually attracts millions of tourists from across Viet Nam and around the world.
Back on land at Van Lam Wharf, an expanse of art work is waiting for the group. The area is a great place for tourists to explore Viet Nam's needlework.
Thousands of embroidery and thread work products with many designs in different sizes are so beautiful that most people cannot deny at least one indulgence for themselves or as a gift for a loved one back home.
"I especially enjoyed the part of the ride that took us right up to the limestone mountains," says Townsley, who also expresses his pleasure with the boat ride and the walk around the Trang An complex.
"However, the most interesting part of the tour is the bike ride itself. Our tour guide, Trung, leads us over the country lanes that link villages, rice fields and homes.
"It was one of the greatest experiences we had on this tour," says Thanh Hoa, another member of the group.
"I'm a city girl so I have very little idea about rural life. I have been curious about the lives and activities of farmers, but now my mind has been opened quite a lot," she says.
Despite his poor English, Trung guides people to the most beautiful and special places in the area where they can witness the beauty of the rural scenes or give a hand to local farmers with their work.
Open-minded
"Local people are open-minded. They are happy to let visitors help them cultivate rice seedlings, bail water to the fields or dig a fish breeding pond. You can even take a meal with a family or ask them to teach you how to embroider a simple product in Van Lam Village," says Trung.
It seems as if the landscape has been untouched by time, and that's exactly how locals want it to stay. "Although tourism has developed over the past few years, we still want to keep the original features of the region," he says. As the only foreigner Townsley is the happiest person in the group – many people, including a lot of children, greeted him enthusiastically.
"I think the biggest advantage of the tour is just the fact that you can see so much more when you are on a bike than you would see from a tour bus. Also, bikes don't cause pollution," he says. He adds that he thinks the route is a little too long for most tourists. "I think 12km is okay but 20 is a little much."
He suggests that better quality bikes would make the tour a better experience and that larger groups should come with a support vehicle. But he still intends to recommend the tour to his family and friends when they come to Viet Nam.
"My customers are really interested in this tour because it puts them closer to nature and to the culture, customs and habits of the local people, which are often very different from their own," says Nguyen Viet Trinh.
"Most of our travellers are currently white-collar workers who don't generally have time for biking. Bike tours give them chance to discover many new things and recover their health with exercise and fresh air," Trinh says.
"However, we have only met 85-90 per cent of their demands because of a few customer service problems, including the quality of the bikes and tour guides," he says. He adds that customer service improvements would increase the number of tourists to Viet Nam. — VNS