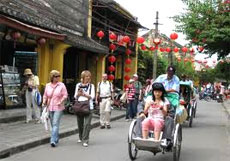 Doan Thi Thanh Tra, Head of the Saigontourist Travel Service Corporation's Marketing Department, said that as of January 26 (the 23rd day of the 12th lunar month) the company will begin to receive groups of foreign tourists who want to experience the Vietnamese people's biggest traditional festival.
More than 8,500 visitors have booked tours to Vietnam for the occasion and this is the 8th consecutive year that Saigontourist has organised tours to serve holidaymakers from abroad as well as foreigners who are working and living in the country.
If booking a tour to Ho Chi Minh City, visitors will have a chance to enjoy the flowers at the Tao Dan Park and learn about the spiritual lives of the local people by visiting pagodas, where they can pray for good luck during the Year of the Cat.
Visitors will have an interesting experience by going on a sightseeing tour of Cho Lon market by pedicab or visiting local families, enjoying traditional dishes and receiving gifts for good luck from the owners.
Meanwhile, tours to the Mekong Delta offer holidaymakers an opportunity to experience the typical Tet atmosphere of the local residents, with exciting floating markets and Don ca tai tu (music of the talented) singing. They can join in with the hosts to pack banh tet (cylindric glutinous rice cakes) and banh chung (glutinous rice cake).
In addition, Saigontourist's restaurants, hotels and tourist sites have also prepared menus with typical and traditional dishes to serve domestic and foreign visitors during the festival.
Other travel firms are planning to launch their own tours, alongside the traditional ones, to attract tourists during the holidays.
Duong Mai Lan, from the Vietravel Company's Marketing Department, said that most of visitors have chosen the central ancient town of Hoi an, the central city of Da nang and the Mekong Delta as destinations.
Tours in the North will bring holidaymakers to the capital city of Hanoi, the UNESCO-recognised natural heritage Ha Long Bay, the northern mountainous town of Sapa, and the Huong (Perfume) pagoda.
Tourists can travel along the Hong (Red) river by ship and visit a number of riverside tourist sites such as Tien Dung-Chu Dong Tu Temple and Bat Trang pottery village.
According to the Vietnam National Administration of Tourism (VNAT), the country is targeting welcoming 5.3 million foreign visitors and serving 30 million domestic holidaymakers in 2011.
The tourism sector will strive to earn revenue of more than 110 trillion VND (5.5 billion USD), equivalent to 4.6 percent of the country's estimated gross domestic product (GDP).
To reach these targets, the VNAT has mapped out plans to attract one million tourists from each of the key markets, namely Thailand, Japan, the Republic of Korea and Europe.
Source: vietnamplus.vn