San Diu ethnic paintings, meant for worship and found in the mountainous northern province of Tuyen Quang, owe much of their survival to local collectors.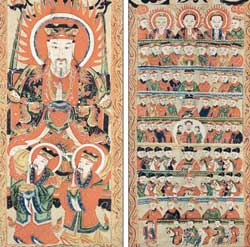 Holy relics: Two San Diu paintings, made for worshipping, are preserved in the northern province of Tuyen Quang.
According to researcher Phan Ngoc Khue, these type of paintings appeared a very long time ago.
"Paintings have always played an important role in the spiritual life of the San Diu people, revealing specific elements of both their culture and lifestyle," he said.
Traditionally, San Diu paintings were applied on cardboard using only natural colours.
As part of San Diu customs, sorcerers often display different forms of art including Buddha statues, bronze dragons and paintings made to worship, symbolising various spiritual images.
Locals believe that these type of paintings help them see God or Buddha during worship ceremonies.
Tran Van Thang, a Son Duong District resident, said that the paintings reflected people's conceptions regarding past and present life.
Despite their popularity, only a few old paintings are kept locally.
Collector Bang Xuan Luc, who lives in Son Duong District's Thien Ke Commune, said: "I'm so lucky to have some of the oldest paintings around, left to me by my parents upon their death. I still use the paintings during ritual ceremonies throughout the year."
Pham Duc Si, from the Ha Noi Fine Arts College, presides over a 500-painting collection, 200 pieces of which come from the San Diu ethnic group.
"I bought these paintings by chance while travelling through former Ha Tay Province (now Ha Noi) a few years ago. Because of their exquisite colour I started studying their origins with much interest," Si said.
In order to avoid deterioration, many painters have resorted to working on cement bags and often even on silk using various chemicals.
The provincial Department of Culture, Sports and Tourism is busy drawing up plans for the preservation of traditional paintings.
"We plan to collect traditional artwork and information from among ethnic people, which will take a lot of time and money," Au Thi Mai, a department official, said.
"Despite the challenges, we will aim to do our best in preserving traditional Vietnamese artwork from around the country," she added.
(Source: VNS)