About three kilometers from the ancient town of Hoi An, the Dua nuoc (mangrove palm) forest in Cam Thanh Commune in the central province of Quang Nam has become a much sort after tourist destination.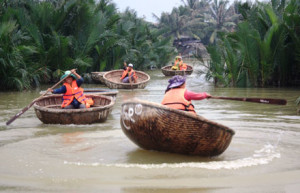 The forest rests at the convergence of Thu Bon and Truong Giang rivers before they flow into the East Sea. The Hoi An mangrove palm forest plays an important role by forming a natural filtration system before the river currents merge into the sea.
The year-round green forest grows along the river and canal banks. On islets and areas around the forest, there is a particular ecosystem, which is home to many species of fishes and shrimps.
Local residents are well aware of the value of the mangrove palm forests to the environment and for tourism and are cooperating with organizations and tourist companies to exploit the tourist potential, annually broadening and preserving the forest area.
Visitors to the forest can take a leisurely bicycle ride through the forest. Crossing the various paths there, visitors will see local farmers picking mangrove palm leaves, which they use as roofing material and for handicraft items.
Boats are always available to carry visitors along the canals to pick mangrove palm nuts and enjoy a cool coconut drink.
For those who want to relax in a fresh atmosphere, they can bring fishing rods, choose a suitable place and enjoy the sunset as it lazes over the Thu Bon River. People prefer wide-open spaces, they can row a boat out to the river or cast a net with the help of local anglers.
Source: Thanh Nien