By Adam Seper
One of the biggest misconceptions of international travel is that most people cannot afford it.  While there are certainly places in the world that are difficult to travel to without a six-figure salary, there are also plenty of others where just about anyone can go.
Looking away from the typical North American and European vacations, one can find other regions around the world where it's not only possible, but rather easy, to travel on the cheap.  Many travelers can get away for a week, and sometimes two, for under $500US for the on-the-ground expenses, including accommodation, food, drinks, activities, and transportation (excluding airfare to and from your hometown).
Thailand
One of the most budget friendly countries in the world, Thailand has been on the backpacker radar for 40 years, and with good reason.  Cheap accommodations and dining, inexpensive buses and trains, beautiful beaches and mountains, and a bustling metropolis in Bangkok all contribute to the perfect storm for the budget traveler.
Bangkok
Even the massive Thai capital of Bangkok can be done easily on the cheap.  It wouldn't be difficult for travelers to stay in Bangkok for 10 days on $500, less if you really don't mind roughing it.
If you're fresh out of high school or college and on a gap year, then your home base will probably be Khao San Road, the backpacker haven that offers $5 beds, $1 bowls of Pad Thai, and cheap Thai whiskey buckets.  If Khao San Road isn't your style, consider staying in the Sukhumvit area, home to many of Bangkok's expats.  Located near the Skytrain, which can get you about anywhere you need to go in the city, Sukhumvit is home to very nice, very clean, and much more laid back guesthouses.  It's not uncommon to get a private room with bathroom and shower for around $25-30US, with all the cheap eats you need in the surrounding streets.
Even most sites in Bangkok are cheap.  Very few places tourists visit, like the Grand Palace, Wat Pho and the Temple of the Emerald Buddha, and Wat Arun, will break the bank.  Entrance to the Grand Palace only sets travelers back about $6US.  In addition to the literally hundreds of temples in and around Bangkok, another cheap endeavor is heading to the markets.  The night market runs every night, and the weekend market is one of the largest in Asia.  Bargain for souvenirs at rock bottom prices and eat some of the best (and cheapest) food around.
Chiang Mai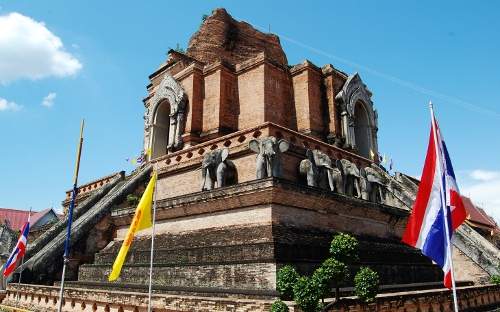 In this smaller and more laid back city in the north of Thailand, $500 can get many travelers up to two weeks of fun.  Dorm beds are available for a few dollars a night while nice hotel-style private rooms with bathrooms can be had for about $25/night.  Some places may even have a pool!
Like the rest of Thailand, if you're willing to eat local Thai food, you can eat for $5/day with ease.  Even if you tire of Thai food, there is plenty of other ethnic food in Chiang Mai, including a good deal of Indian restaurants, that will only cost a bit more.
Most areas of Chiang Mai are close enough to walk, but songthaews are a cheap and efficient alternative mode of transport for getting to those far out places.  Many of the temples are free to get in, and the ones that do charge don't cost much.  Travelers can even pamper themselves with $5 hour-long massages and still come in under budget!
Thai Islands

Everyone knows about Koh Phi Phi, Phuket, and the full moon parties at Koh Pha Ngan.  These are all great places to visit, but if you're trying to save some money, consider heading to smaller, less popular islands where your money will go further.
Like Chiang Mai, $500 can get most travelers 10-14 days of fun in the sun in many Thai islands.  Koh Chang, while getting more popular by the year, still has several beaches that accommodate those on a budget.  Beachside bungalows on Lonely Beach, while not exactly the most pristine, can be had for about $3-4/night, but there are also nicer ones with air conditioning and a private bath/shower for around $25-30/night.  More and more western food is popping up on Koh Chang, which means higher prices, but there is almost always a Thai section on the menu at a third of the price, and usually much tastier.
If planning wisely, tourists can even get in elephant tours and snorkeling trips without busting the budget wide open.  Koh Tao and Koh Samui are also good options when looking for cheaper Thai islands to spend time unwinding.
Vietnam
A spectacularly beautiful country with tons to offer, Vietnam is a great place to visit if you want your money to go far.  Vietnam hotel is cheap while still being clean and comfortable, the local food is some of the best in the world and is available for next to nothing, and getting around by bus will save plenty of money.
Hanoi-Halong Bay
A trip to a city that just celebrated its 1000th birthday, plus a side trip to one of the most picturesque bays on Earth, all for under $500?  You got it.  Combining 4-5 nights in Hanoi with a 3 day, 2 night trip to Halong Bay is possible to do for under our magic number, and it will be a trip you will never forget.
The northern city of Hanoi is as crazy and bustling as Southeast Asian cities get, and while your senses may get a stern test, the energy, the sights, the smells, and the sounds of Hanoi will stick with you forever.  Halong Bay tours can be really cheap, really pricey, and anywhere in between, so shop around and do some research.  There are a lot of scams out there, so going with a reputable company like Ocean Tours is a good idea, even if it costs a bit more.
If going to Halong with a more expensive tour, it's not difficult to balance your budget during a cheap stay in Hanoi.  A bed can cost as little as $5, while a private room with bath can be as cheap as $20.  Just wandering the narrow, winding streets and markets of the Old Quarter really gives travelers a feel for the city and Vietnamese culture.  Hanging out at the park surrounding Hoan Kiem Lake, while watching the people and traffic and taking pictures, is a great free activity.  And the food, my God, the food.  Stop in a random alleyway for an absurdly cheap, steaming bowl of pho, then look for small shops with Bia Hoi signs and wash it all down with a 25 cent beer.  That's right, 25 cents!
Saigon (Ho Chi Minh City)-Mekong Delta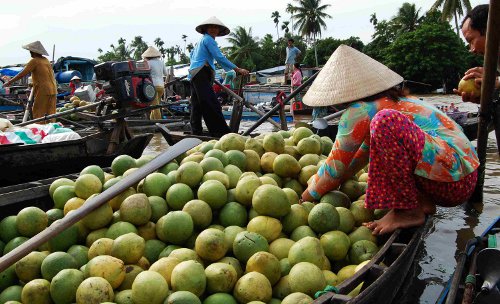 One of the greatest things about massive cities in Southeast Asia is that most all can be done on the cheap.  Try finding a saigon hotel room for under $25 or a meal for a buck in cities like New York, London, Paris, or Sydney.  It's pretty much impossible.  But that's simply not the case for a city like Saigon (as it's still called by most all locals). A private room can be found for under $25, and a simple bed can be as low as $5.  Like the rest of Vietnam, looking for street carts and markets for meals will get you not only the freshest, tastiest, and most authentic food, but also the cheapest.  Meals are easy to find in Saigon for a dollar or two.  Even taking a taxi across the city to a museum won't set tourists back but a few dollars.
Travelers can easily take a 7-10 day trip to Saigon and the nearby Mekong Delta for under $500.  A 6-7 day stay in the capital city can be done for about $35-40/day with relative ease, and if you decided to spend $50/day, you'd be traveling pretty well.  A 5-hour bus trip to Can Tho, the largest city in the Mekong, only costs about $5, and hiring a long tail boat to guide you around the floating markets can be as little as $15 for an entire day.  If thinking about a homestay, look into smaller Mekong cities like Vin Long, where an authentic stay with a family will only set you back about $25/night, meals included.  There are tons of options for visiting this area of Vietnam, and most can be done for rock bottom prices.
Laos
Laos has been gaining steam the past decade as a backpacker hotspot, but the costs have yet to catch up with the popularity.  It probably won't be long, but as of now, $500 will get you pretty far in Laos, with its gorgeous scenery and laid-back lifestyle.
Luang Prabang-Vang Vieng-Vientiene
A trip like this may be a bit hurried in a country like Laos, where overland travel is slow going.  Travelers could take up to two weeks to hit up all three places (Vang Vieng lies in the middle between Luang Prabang and Vientiene), or just pick and choose one or two, all the while keeping it under $500.
All three cities have cheap accommodations available, with Vang Vieng being the cheapest and Vientiene being most expensive.  But in all three, a bed can be had for under $5, with a decent private costing anywhere from $15-$30.  Like any Southeast Asian city, food can be cheap if you go the local route, but even other ethnic foods, including some western restaurants, won't kill the budget.  Make sure to check out Luang Prabang's night market, which has all the cheap food you can imagine.
Buses are extremely cheap, but you get what you pay for in Laos, which usually means an overcrowded minibus, oftentimes without a/c, traveling on unpaved roads much of the time.  But when paying under $10 for an 11-hour bus trip from Luang Prabang to Vientiene, it's easier to stomach the conditions.
Even activities in Laos are cheap.  A trip to the nearby waterfalls outside Luang Prabang, in addition to all the beautiful temples in the city, all will only cost a few dollars.  The backpacker rite of passage, tubing in Vang Vieng, may end up being a bit expensive depending on how much alcohol you consume, but that will be made up the following day when sitting around doing nothing while recovering and watching Friends in the town's restaurants.   Even the capital city of Vientiene has several cheap and free things to do, including a massive labyrinth of a market that can take an entire day to explore.
If you can manage to find a cheap flight to Laos, your $500 will take you further than almost anywhere in the world, but it won't be this way for long, so get to planning!
Colombia
Colombia still has a bit of a stigma to it, but if you've paid any attention to the travel world in the past few years, you'd know that it has turned the corner.  Before long, Colombia will be a major travel hotspot.  Beaches, big cities, dancing, mountains, jungles, and some of the friendliest people in the world are all contributing to the tourism boom in this once maligned country.
Cartagena-Taganga-Tayrona National Park
The highlights of Colombia are many, but if you only have a few weeks, then the Caribbean area is a great place to go.  The brightly colored buildings in this walled city make Cartagena one of the most picturesque cities in Latin America.  It's a photographer's dream.  A 5-6 hour bus ride away is the sleepy village of Taganga, which sucks travelers in, making them never want to leave.  Add in a side trip the tropical oasis that is Tayrona National Park, and you have an itinerary fit for a king.  Luckily the price is more suitable for us commoners, and it wouldn't be a stretch to go spend 14 days traveling in this region of Colombia for under $500.
A dorm in Cartagena costs as little as $10/night while a private will set two people back about $20-$25.  Taganga is a bit cheaper on the accommodations, while Tayrona is cheapest of all, offering a beachside hammock for about $5.  A popular meal in both Cartagena and Taganga revolves around seafood, with local beachside vendors and street stalls selling cups of delicious fresh seafood cocktail for about $2-$3.  Food for a day can cost as little as $10 in either locale.  Food is a bit more expensive in Tayrona, but the $5 hammocks should offset that higher cost.
The good thing about beach destinations is that activity costs are usually kept to a minimum.  Lounging on the beach all day doesn't cost much, and even if you decided to take a boat trip or go snorkeling, it won't bust the budget.  $10 will get tourists a boat trip to Playa Blanca, a striking white sand beach outside of Cartagena.
Argentina
While not nearly as cheap as it was ten years ago, Argentina is still home to a great steak and red wine dinner for two for under $30, in addition to a culture like no other.  Part European, part Latin American, Argentina is a unique country where the dollar, euro, pound, and other currencies around the world still go pretty far.
Buenos Aires
The capital of Argentina, Buenos Aires is one of the most unique and impressive cities in the world.  Culture oozes from all over, from the passion of the tango in La Boca to the massive Sunday flea market in San Telmo to the chic neighborhood of Palermo.
Travelers can spend at least 10 days in Buenos Aires for $500 if on a tight budget.  Hostel beds and rooms are more expensive than elsewhere in the country, but a dorm bed can still be had in some areas for $10-$15, while privates are going to run about $20-30.  If coming to Buenos Aires for a week or longer, consider renting an apartment, which can be done for about $25/day.
While food is cheaper than in the States or Europe, there isn't the glut of ultra-inexpensive street food like in Southeast Asia, so having an apartment with a kitchen is a great option for saving a few bucks.  For tourists staying in hostels or hotels, you can still enjoy the food Argentina is known for, red meat and red wine.  While you won't always be able to dine out this nicely, it is possible to get a really good, really large steak for about $10.  A bottle of decent wine at many restaurants also costs about $10, so get used to dining well for a fraction of the cost of home.  For breakfast, stop by one of the hundreds of bakeries and grab a few of the mouth-wateringly good baked goods, facturas and medialunas, for an indulgent but cheap way to start the day.
As far as activities go, museums are a bit more expensive, but many offer free entrance one day a week, so do your homework.  Luckily for all travelers, Buenos Aires is chock full of free things to do.  The Sunday Flea Market in San Telmo can easily take up an entire day, while simply wandering the different barrios (neighborhoods), chilling in the massive Parque Tres de Febrero, and checking out the famous Recoleta Cemetary are all things one can do for absolutely nothing.  Getting by on $40/day in Buenos Aires shouldn't be a challenge for any budget minded traveler.
Bariloche

A skiing and snowboarding town in the winter transforms into an outdoorsman's haven in the summer.  Bariloche is certainly touristy, but that doesn't take away from the beauty of the area and friendliness of its people.
Depending on the time of year, Bariloche can be a bit pricey compared to many other places in Argentina.  Summertime (December-February), when the weather is perfect for hiking, biking, and climbing, sees prices go up, but it's still possible to take a 7-10 trip here for under our $500 budget.  Accommodations are a little pricier, with dorms costing $15-$20 and privates going for about $30-$40.  Most hostels do have kitchens, though, so you can save a lot on food by cooking most of your own meals.  Like Buenos Aires, renting an apartment is another option that could help the budget.
Luckily, many of the outdoor activities available are cheap or free.  Hiking never costs anything, so you could explore the surrounding areas on foot for next to nothing.  Even better, if you have your own tent, you could save tons on a multi-day trek in the area (renting a tent and camping equipment is also possible, and doing so would cost less than staying in a hostel).
If 7-10 days seems like too much time in one place, consider a side trip to the small hippie town of El Bolson, only about two hours away by bus.  The market held here three days a week is very impressive and is heavy on organic eats and goods, and there is plenty of hiking and biking in the region.
These are just a few of the many budget friendly countries around the world that offer a lot of bang of your buck.  Keep an eye on airfare deals, and you could be setting off on an epic adventure across the world that won't jack up your credit card balance.
(Source: bootsnall.com)