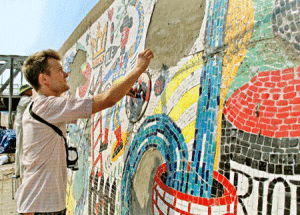 "The World Guinness Book representatives will go to Hanoi to evaluate the Hanoi Ceramic Road in September.
Nguyen Thu Thuy, the author of the Hanoi ceramic road project, said that her group is about to submit the project to the World Guinness Book to recognize the road as the world's longest ceramic painting in the world.
The road is nearly 4 kilometers long, totaling around 7,000 square meters. Around 95 percent of the painting has been completed.
The painting includes 21 sections, running on the wall of the dike along the Red River, with various topics: honoring Vietnam's history through patterns of the Ly, Tran, Le, and Nguyen dynasties; typical patterns on brocade, ceramic paintings of Hanoi by Vietnamese and international children; and contemporary paintings by Vietnamese and foreign artists.
Thuy said that the project was warmly supported by many Vietnamese artists and nearly 100 foreign artists. It is funded by nearly 30 companies. This is a special work to celebrate Hanoi's 1000th anniversary.
The painting by Bui Viet Doan and Nguyen Thu Thuy.
The painting by Spanish artist Louis Lambert.
Paintings by Tung Ngoc.
Ceramic paintings by Hanoi children.
Hanoi's old streets by Nguyen Manh Cuong.
The Red River by Nguyen Thu Thuy.
Nguyen Thu Thuy and painter Ana Tzarev from New Zealand, with paintings designed by Tzarev.
PV