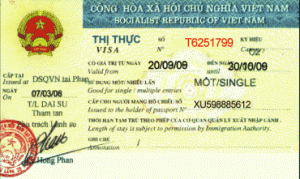 It's been quite a week getting through Vietnamese red tape. One of my designated tasks in preparation for our trip to Vietnam has been organising our visas. Citizens from most countries in the world need a visa to enter Vietnam. There's a Vietnamese Embassy in London, so a couple of weeks ago, I started doing the paperwork for a visit to their visas office so that Monsieur and I don't end up being returned to England as rejected goods.
As anyone who's ever applied for a visa will know, embassy queues are unpredictable and I hate not knowing how long I'll be away from work if i have to undertake this sort of errand. Groaning to myself as I realised how much time this was going to take, I googled Vietnam visas and lo' and behold, found the online answer to my visa prayers. It's now possible to apply for your visa through an online agent, pay a processing fee and print an authorisation letter with a special code for presentation when you arrive at one of the international airports in Vietnam. You'll need to present 2 passport photos with the letter and a visa fee, but even added to the processing fee, this system still works out way cheaper than doing it the embassy way here in London.
The first part went well. I sent through a completed online form with our trip and passport details and almost immediately received a confirmation of receipt. A few hours later, an e-mail arrived saying we'd been approved for entry into Vietnam, giving me details of how to pay the processing fee either by Western Union or Xoom.com.
You guessed it – this is where my problems began. The Western Union online money transfer system all seemed to be going swimmingly until a page appeared telling me to call them to confirm the transaction. I did so, answered about 30 or so questions regarding the transaction and was then told firmly that it had been denied. I called my bank to ask why; they told me the transaction was showing as confirmed and recommended calling Western Union again. W U told me that this confusion often happened with banks and that I would receive my money back in seven to ten days. If I wanted it sooner, I should apply to my bank as my money was currently sitting in a suspense account. I called my bank again. They told me that only Western Union could release the funds from the suspense account. The only suspense there was in this situation was going to be when I could expect my money back. I called Western Union again and flipped out.
"so you're telling me that even though your system was always going to refuse my transaction, you took my money anyway and now I can't have it back for seven to ten days? That's theft. You must be making a fortune out of this scam. It's my money, you took it, you won't approve me to send it where I need it, you'll get the interest from it for a week and a half and you tell me it's my fault for pressing the SEND button?"
That's right. They told me it was my fault. I won't go on. My blood pressure's rising as I write this. In summary, I was put onto one of those supervisors who's been thoroughly trained in how to speak with hyperventilating hysterical customers, which only enraged me more as I have been through that sort of training myself so I can hear all the tell-tale phrases.
I called my bank again. Explaining my frustration, I was then told that it was all my bank's fault. The fraud alert computer spotted my attempt to send money to Vietnam, a place with which I have no relationship according to my account history, so the card was blocked immediately. The bank clerk unblocked it for me and logged the dates I'd be travelling in case this happened again. I logged onto Xoom.com, tried to send across the visa money again and was again blocked. I called the bank again. They told me that my card had been blocked once more because the previous clerk with whom I'd dealt had logged me as being in Vietnam already so the computer thought a UK transaction was fraudulent. The account was unblocked for a second time but even after another hour I still couldn't get the money to go through. Fed up, I stopped trying.
The following day, I logged onto Xoom again. This time, thank Heavens, the transaction arrived safely in Ho Chi Minh City and Monsieur and I will receive our visa confirmation letters before we leave. Now I just have to get my money back from Western Union.
Summary:
Started transfer attempt number 1 – 2.15pm day 1
Successfully completed transfer –  12.38pm day 2
Calls to Western Union -3
Calls to bank – 4
Western Union refused transactions – 1
Xoom.com refused transactions – 6
Xoom.com accepted transactions -1
Blood pressure reading after third call to Western Union -180/120, i.e. dangerous.
Western Union fee for sending $36US to Vietnam – £12.00 GBP (rip off)
Xoom fee for sending $36US to Vietnam – $5.99 US (far cheaper)
Would I recommend Western Union? – NO.
Advice – call your bank before attempting an unusual transaction to make sure it isn't blocked.
http://epicurienne.wordpress.com/2008/08/17/visas-for-vietnam/
View more cool article here: http://epicurienne.wordpress.com
View more details about who do not need a visa to Vietnam, how to apply for Vietnam visa, see: https://www.vietnam-visa.com/
Collected by Vietnam Travel Blog