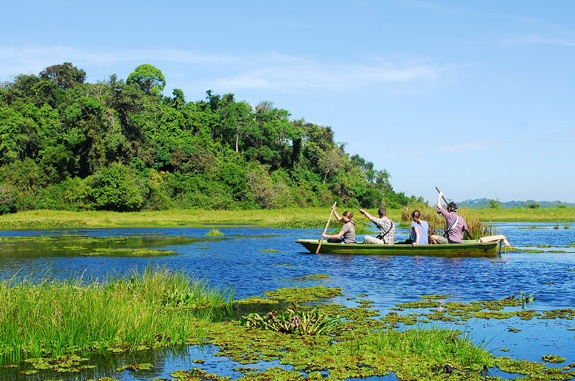 Cat Tien National Park Bau Sau (Crocodile Lake), one of the beautiful vistas at the Cat Tien National Park
Just 160 kilometers northeast of Ho Chi Minh City, Cat Tien National Park, one of the largest treasure troves of biodiversity in Vietnam, offers some of the best ecological and cultural experiences even as it reenergizes our body and soul with its beautiful natural landscapes.
There are several tour options designed and provided by the Cat Tien National Park's Ecological Tour Center, and we decided to follow the highly recommended "night safari."
After a short trip around the park in the afternoon, we gathered at the park's office at 8 p.m., ready for a two-hour cruise into the jungle. A jeep came to pick ten of us up and our "night safari" in Cat Tien began.
GETTING THERE
A two-day trip is just right for taking in Cat Tien National Park. From Ho Chi Minh City, you can easily make a backpacking trip by motorbike, car or bus to the park. If you drive your own motorbike or car, follow National Highway No. 1 A and then No. 20 which takes you right to the park. You can also take a bus to the park from the Mien Dong Bus Station.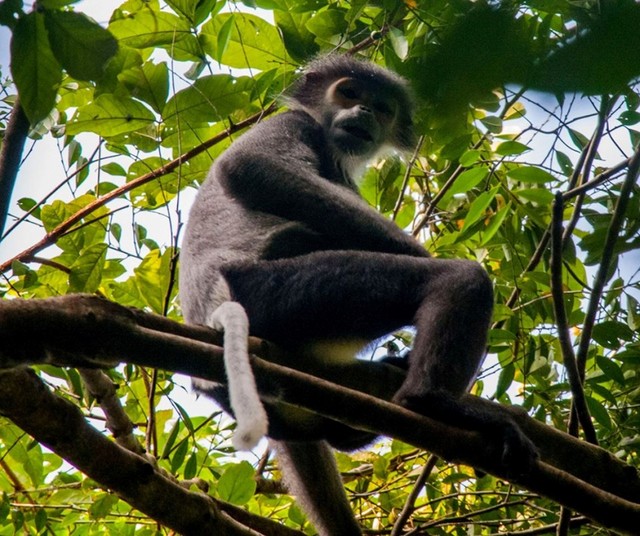 A langur on the tree in the forest
The whole forest was plunged in darkness. The air was really wet and cold. We sat closer to one another and strained our eyes to see through the dark. Everything seemed to be in a deep sleep, until I spotted a civet cat running at the foot of a huge tree and a small squirrel climbing fast and jumping from one tree to another. Why were they up and about at this time? What emergency was it that kept non-nocturnal creatures up at this time, I wondered. Was it us?
The jeep drove slowly through dense forest. We began spotting owls, rabbits and even butterflies, a few porcupines, wild boar, bulls and other creatures.
The jeep finally took us to a large grassland about 10 kilometers away. I looked at my watch. It was 9 p.m.
"This is the place where you can see many kinds of animals come for food," our guide said. "This tropical forest is home to some of the world's most endangered species. The park was established in recognition of Cat Tien's unique wildlife and the importance of protecting it."
We relaxed our mind and inhaled the pure, fresh, invigorating air. Through the headlights, we could see some herds of deer grazing, some kingfishers waiting for their prey near a small pond and heard the noisy croaking of frogs. Our guide said that the animals here were accustomed to the presence of visitors at night so we could watch them very easily.
Later at night, life in the jungle seemed more exciting. We were treated to thrilling sights and sounds here before we drove back at 10 p.m. An oriole, which we would hardly get to see in daytime, put in a surprise appearance and sent us along with some beautiful melodies.
Reported by Phong Lan
thanhniennews