Maybe the definitive favorite among Saigon expats due to its location and great beach. Even though Vung Tau is a few hours closer, the service level and the quality of the beach normally drags us there. The destination is often called Phan Thiet, but it is actually a small one street city 10 kilometers away that gets the most visitors. Mui Ne is the name and this place is perfect for short term visitors with its abundance of resorts and restaurants. A 4 hour drive from Saigon, it is close enough to escape to for a weekend.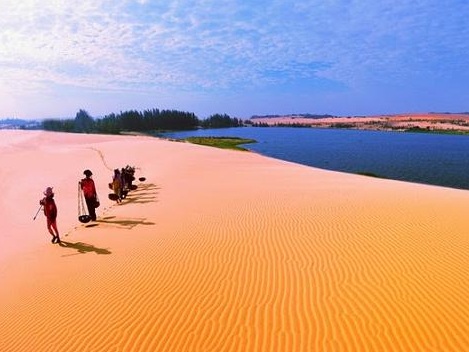 Just a few years ago it was a sleepy fishing village with a long stretch of white beach, nowadays the fishing village is still present on the east end of the beach. The beach and the road next to it has become a city in itself with resorts on the beach and restaurants across the road. A variety of resorts for all budgets can be found here and the food is quite a bit cheaper than in Saigon. The weather is normally fine all year around in Mui Ne and the people traveling here consists of a healthy mix of tourists, Vietnamese tourists, Saigon expats and backpackers.
To do in Mui Ne
Although most people, especially expats, go to Mui Ne to escape the hustle and bustle of Saigon, there are still some things to be done when you get tired of your resort's swimming pool. On the way to Mui Ne or as a daytrip, you might want to check out the 49 metres tall Buddha taking a rest on the top of a mountain Ta Cu, 30 kilometres from Phan Thiet. Another tourist attraction in Mui Ne are the sand dunes of different colors, the best way to see them is to go on a halfday tour to see them all, and perhaps even try dune surfing which basically is you on a piece of plastic going down a sand dune. Normally these tours also include the fairy stream which is a small river that you walk upstream in, a relaxed and interesting experience.
Last but not least, due to good winds kite-surfing & windsurfing are very popular in Mui Ne and if you want to learn there are almost always instructors on the beach. Overall there are quite a few water sports to try out in Mui Ne.
What about Phan Thiet
Neighboring Phan Thiet has one of the finest 18-hole golf courses in the country, at the Ocean Dunes Golf Club. The new Sea Links Golf Course opened in 2008 offers an additional 9 holes.
How to get there
Bus from Saigon,  we recommend Sinh cafe.
If you prefer having your own private car taking you, send us a request and we will make it happen.
If you are coming from Hanoi or even out of Vietnam, we can help you arrange a flight ticket to Saigon and the trip from Saigon to Mui Ne and back.
Favorite resorts
Terracotta Resort, 28 Nguyen Dinh Chieu – The best bang for your buck, excellent resort for a budget price.

Victoria Resort, Km 9, Phu Hai – A bit isolated, great breakfast and beach.

Sailing Club, 24 Nguyen Dinh Chieu – The favorite of Saigon expats, a modern classic.

Favorite restaurants
Gecko, 53 B Nguyen Dinh Chieu – Great music, decent food and a pool table outside. All you need.

Favorite bars/clubs
Jibe's, 90 Nguyen Dinh Chieu – Relaxed bar that is perfect after a day at the pool.
(Source: Expat.vn)