The festive season is a time to celebrate and make merry with family and friends. This year, the two important holidays, Christmas and New Year fall on the weekend so people have more time to relax and enjoy entertainment and dining with family and friends. In the Daily's issues on Dec. 10 & 17, TravelLiving features Chritsmas and New Year programs of hotels and tourist areas under the management of Saigontourist. Here are some more interesting venues   for you to choose for your holidays.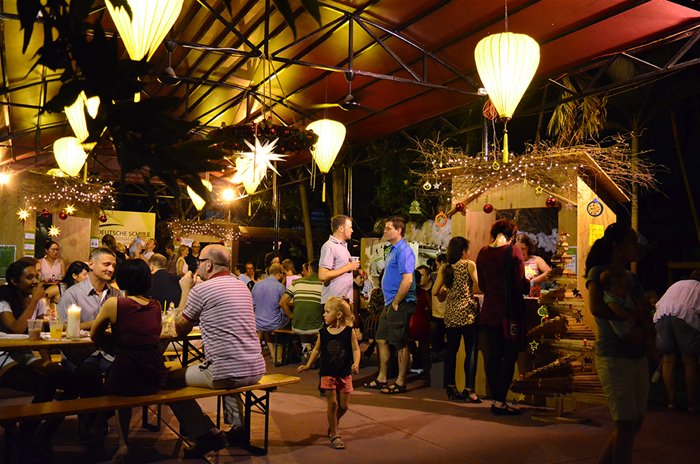 ENTERTAINMENT ACTIVITIES
*September 23 Park in HCMC's District 1:
The fifth "Tastes of the World" festival will take place from Dec. 26 until Jan. 2 in the park with 60 booths from 24 countries. Apart from honoring local and international cuisines, the festival features a bartender contest, a ceremony to set Vietnam's record for the biggest banh xeo (pancake), and a cooking contest with celebrities. Delegations from the Republic of Korea, Russia, Germany and Vietnam will perform traditional dances and folk songs in their national costumes. Youth Advertising Company.
*Dai Nam tourist area in Binh Duong Province:
The tourist area will launch a 20-minute science movie projected onto a dome screen. The dome movie theater is a combination of film making technologies, an 18m diameter dome a surround stereo system with 18 speakers and six projectors. The theater which seats 200 will screen a nature movie. The tourist area will organize a fireworks display on New Years Day Jan. 1.
*Suoi Tien Theme Park in HCMC's District 9:
For Christmas, Suoi Tien will be transformed into snowy mountains and forests with Santa Claus riding his reindeer sleigh as angels and a snow princess give gifts to children.
An ornament festival will be held from today until Jan. 1 featuring 60 booths from cities and provinces nationwide. Some contests on bonsai, orchids, ornamental fish and dogs will be held.
*Dam Sen Cultural Park in HCMC's District 11:
The park will launch a special "Sweet Noel & New Year" program from  Dec. 24 until Jan. 2. A new drama for children named "Vi than may man' (A lucky genie) produced by Idécaf will stage for four days Dec. 24, 25, 31 and Jan. 1. A hip-hop battle called "Red Lotus 2011" featuring break-dance, Deejay, Rap, Graffiti, Beatbox by Vietnamese dance groups and a judging panel from Thailand will be organized all day Jan. 1 at the musical fountain stage from 7am to 6pm. An ice sculpture show featuring images of the world wonders including Vietnam's One-Pillar Pagoda, Thailand's Golden Pagoda, Lao Pagoda, the Hanging Gardens of Babylon, the Champs-Élysées and the Leaning Tower of Pisa is on display until next September.
*Saigon Zoo & Botanical Garden (2 Nguyen Binh Khiem Street, District 1, HCMC)
On Dec 24 and 25, the central Youth Union in conjunction with Yeah1 TV will hold the Yeah1 Wonderland festival. The festival lineup includes a Hip Hop Supernova contest for hip hop and break dance groups, a cosplay show, a carnival, a street parade with performance art, musicians and dancers and a swapping festival.
*The Canal Area of Phu My Hung Urban Zone in HCMC's District 7:
The Canal Area will be decorated in the Christmas theme with images of Santa Claus and the reindeer sleigh, the Snow Queen, dwarfs and penguins until Dec. 26.
DINING OUT
*Caravelle saigon(17 Lam Son Square, Dist. 1, HCMC, tel: 3823 4999)
On Dec. 24, 25, 31 & Jan. 1, the hotel's Nineteen Restaurant and Reflection Restaurant will serve buffet lunch and buffet dinner with a live jazz quartet. Price is VND998,000++ to VND2.1 million++. At the Saigon Saigon Bar, there's a countdown dance party with live entertainment featuring Cuban band Luna Negra for VND800,000++.
*Duxton Hotel Saigon (93 Nguyen Hue Blvd., Dist. 1, HCMC, tel: 3822 2999)
Celebrate this festive season at The Grill and earn a Duxton Cash Voucher from our Festive Point Program. Christmas & New Year Eve Buffet Dinner: US$59++/person (Dec. 24 & Dec. 31), Christmas & New Year Day Buffet Lunch:  US$25++/person (Dec. 25 & Jan. 1) and Christmas & New Year Day Buffet Dinner:  US$38++/person (Dec. 25 & Jan. 1).
*Legend Hotel Saigon (2A-4A Ton Duc Thang St., Dist. 1, HCMC, tel: 3823 3333)
Enjoy Christmas Eve and New Year's Eve with a gala dinner buffet, novelties, variety entertainment, and live performance by the Essence Band at the hotel's Pool Side. At the Atrium Café, Santa will give gifts to your kids. A midnight toast with a glass of sparkling at the New Year's Eve countdown with a balloon drop and guitar & violin duo will make the start of 2011 memorable.
*Equatorial hotel ho chi minh (242 Tran Binh Trong St., Dist. 5, HCMC, tel: 3839 7777)
Festive activities include carol singing, a Christmas bazaar and festive dishes at the Orientica and Chit Chat at the Café restaurants. The two restaurants present glorious menus of festive cuisines. Party on New Year's Eve with sizzling menus, exciting entertainment, a lucky draw and the official countdown.
*InterContinental Asiana Saigon Hotel (corner of Le Duan Blvd. and Hai Ba Trung St., Dist. 1, HCMC, tel: 3520 9999)
The Christmas Royal Afternoon Tea at The Library lounge, some Italian home-style delights at Basilico, and a lunch or dinner at Market 39 with special Christmas treats are some highlights. At the Spa InterContinental, a "Get Your Glow Back" package has been created.
*Mövenpick Hotel Saigon and Mövenpick Hotel Hanoi:
At both saigon hotel and Hanoi are launching special brunches and buffets to celebrate the holidays. In HCM City, Santa Claus will be hading out Christmas gifts to the kids in the lobby. In Hanoi, special Christmas activities will be available to children in the playroom. Gift Hampers are also available at the two hotels.
*Park Hyatt Hotel Saigon (2 Lam Son Square, Dist. 1, HCMC, tel: 3824 1234)
A variety of menus have been created by the hotel's celebrated chefs at the two award-winning restaurants, Opera and Square One, especially for Christmas and the New Year from VND1.5 million++ to VND2.7 million++. To welcome in 2011 and party in style, customers can revel at 2 Lam Son bar with the savvy Saigon crowd and guest DJ till 2 a.m.
*Ramana Hotel Saigon (323 Le Van Sy St., Dist. 3, HCMC, tel: 3843 9999)
Be entertained by live dance and choir music, a lucky draw, gifts for kids from Santa Claus and a Gala Buffet Dinner at The Café with more than 90 mouthwatering dishes for US$30++ for adults, half price for kids under 10. New Year's Eve will have live music, lucky draw and a free glass of champagne for the countdown – only US$35 for adults, half price for kids under 10. The hotel offers its Year-End party package for only USD$16++ per person. Customers are offered a choice of menus, standard festive decorations with lighting and sound system, dance floor and one festive banner.
*Renaissance Riverside Hotel Saigon (8-15 Ton Duc Thang St., Dist. 1, HCMC, tel: 3822 0033)
Festive specialties prepared hot at live cooking stations are served at Riverside Café while Kabin Chinese Restaurant offers promotions at its private dining rooms during the season. At the 21st Poolside Terrace, there is a festive BBQ and live music. Kid corners are available to keep your kids entertained while gifts from Santa Claus will complete the little guests' wishes for the night. For the New Year countdown, thousands of balloons drop at the crack of the New Year. You can pop the balloons to discover your prizes.
*Sheraton Saigon Hotel & Towers (88 Dong Khoi St., Dist. 1, HCMC, tel: 3827.2828)
The Gingerbread House is offering a wide range of gifts for guests to buy from a chocolate Santa Claus to a gingerbread snow man and Christmas yule logs. Christmas at Saigon Café has carol singers and gifts from Santa Claus for the children besides festive dishes. At New Years Eve, there is the countdown party at the Night Spot bar.
*Sofitel Saigon Plaza (17 Le Duan Blvd., Dist. 1, HCMC, tel: 3824 1555)
On Dec 24, Café Rivoli serves a delightful Christmas Eve buffet dinner with a traditional five-course set menu and a glass of Taittinger Champaign and unlimited Bordeaux wines at VND1.6 million++ per person. An enticing New Year's Eve dinner buffet awaits you at Café Rivoli to feast for this festive night with a selection of fine French wines on free flow at VND 1,800,000++ per person. Then, indulge yourself with a "Magnifique" lobster brunch, for Jan. 1, with a wide range of desserts at VND900,000++ per person.
*Windsor plaza Saigon(18 An Duong Vuong St., Dist. 5, HCMC, tel: 3833 6688)
The Windsor Plaza Hotel is also serving up special holiday fare at the three award-winning in-house dining establishments. Café Central An Dong will host special Holiday brunch and dinner buffets on Dec. 24, 25, 31 and Jan. 1. Dinner buffets feature two free glasses of wine or beer.
For a more traditional Eastern take on the Holidays, Ngan Dinh Restaurant, on the hotel's fifth floor will serve a classic eight-course menu with a bottle of imported red wine on Dec. 24, 25, 31 and Jan. 1. While the TOTT Bar & Restaurant, located on the 25th floor, is where to enjoy the scenery and the sumptuous cuisine with two glasses of wine or beer on Dec. 24, 25, 31 and Jan. 1.
*Lion Restaurant (11-13 Lam Son Square, Dist. 1, HCMC, tel: 3823 8514)
Buffet parties will take place at the restaurant from 7 p.m. to 10 p.m. on the nights of Dec 24 & 31, with more than 40 dishes. The parties will rock along with Filipino singers, a Christmas choir, circus and magic performances, games, dances and comedy performances for the New Year's Eve. Participants will get gifts from Santa Claus and take part in a lucky draw. Ticket prices are VND579,000 for adults and VND379,000 for children.
*Victoria Hoi an Resort (Cua Dai Beach, Hoi An Town, Quang Nam Province): There will be a traditional Christmas food program for guests, accompanied with a music performance by the hotel staff choir.
*Golden Sand Resort Hoi an (Hoi An Town, Quang Nam Province, tel: (0510) 3927 555): The Christmas celebration will start from 7 p.m. to 10:30 p.m. on December 24 with a party, Filipino band and lucky draw. Tickets are US$48 per adult and US$28 per child, free for kids under six.
*Furama Resort Danang (68 Ho Xuan Huong Street, Bac My AN, Danang City, tel: (0511) 3847 333): Enjoy music and dance performances and admire the flower with light displays. The resort also offers tours to heritages sites, martial arts on the beach and sport coaching for children such as tennis, flying kites and dragon dances.
*Silver Shores Hotel and Resort (8 Son Tra Dien Ngoc Street, Ngu Hanh Son District, Danang City, tel: (0511) 3818 888): The hotel will prepare a buffet with Asian dishes such as sashimi, Vietnamese soup, steamed shrimp with chili sauce, Thai duck curry and salads.
Other Christmas promotions include rooms for US$185-US$245 per night, including buffet breakfast, Xmas and New Year parties, and half price for the fourth night.
For New Year celebrations in Hoi An, visitors can enjoy the New Year's Eve countdown at Hoai River with activities such as a dan tranh (16-chord zither) solo performance, dragon dances, rock and Aspara dance shows. The program starts 7 p.m. on December 31 to 2 a.m. January 1.