By Dang Hoang Tham in Ca Mau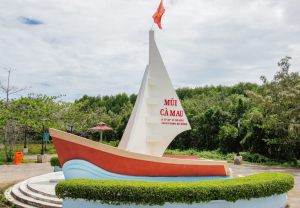 The marker for Vietnam's southernmost point in Ca Mau
Ca Mau at the southern tip of Vietnam has more than 300-kilometers of coastline where the forest meets the sea.
About 350 kilometers from HCMC, the Mekong Delta province is famous for mangrove forests and a bird sanctuary.
We visited the province during the Tet holiday on the recently upgraded National Highway 1A, which made the journey much more comfortable than in the past. Ca Mau City is a proud young city with busy streets and industrial and trade centers.
The Ca Mau Gas – Electricity – Nitrogenous fertilizer IZ in the U Minh Ha Forest is one of the large-scale projects there.
We continued our journey to the southern tip of the country on a cruise to Tan An Commune in Ngoc Hien District, which was where tau khong so (army ships with no numbers) were stationed during the war.
At the tip there is a marker with the coordinates of 8.37.30 North and 104.43 East to mark the southernmost point of Vietnam. The area has been declared nature reserve there and there's a tourist park.
An interesting fact is that each year, Ca Mau expands another 100m out into the sea.
From a 21-meter-high watchtower, the panoramic view filled us with love for the country, gratitude for the heroes who sacrificed their lives for the nation's freedom and pride for the beauty of the motherland.
The point at Ca Mau is the only place in the country where people can see the sun rise and set on the ocean.
Collected by Vietnam hotel