Saigon (Ho Chi Minh City), 27th – 29th May 2010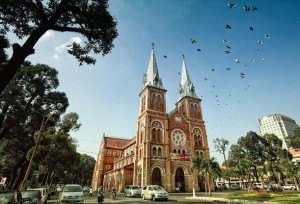 We arrived into the hustle and bustle of Saigon (now officially known as Hoh Chi Minh city) at around 6am. The streets were already packed with loads of mopeds and the park was full with people doing their morning stretch and tai chi We found a pavement cafe to get some drinks (Doddy's first ice coffee) and gather our senses. With a little help from the stall holder we managed to figure out where we were on the map and fortunately we weren't too far away from the main guest house area. With drinks finished we set off in search of somewhere to stay. The first few places we tried were a bit out of our price range but one hotel owner said he'd take us to his friend's hotel that'd do us a room for £12 a night. We followed him there to find it still shut, but no worries, he just drew back the shutters waking his friend who was sleeping in his underwear on a make-shift bed on the floor of the reception! A quick check of the room and it was all okay and yet again, we were able to check in at 7 am, brilliant.
Even though we were quite tired we decided to pass on a sleep and set off exploring as there was lots to see and do. The first thing we noticed about Saigon was that it was way more hectic than Hanoi, with a population of 7 million and 4 million of those having mopeds the roads were manic and even more difficult to cross. There were people everywhere willing to offer you their best price on a lift on their moped or a tuk tuk to anywhere you could want to go. Our first stop of the day was the Reunification Palace which we had to cross a nice peaceful park to get to. The palace was built in 1966 to serve as South Vietnam's presidential palace and it is where the first communist tanks crashed through the gates in 1975 when Saigon surrounded to the North. The palace was interesting and gave us a good bit of background information into the conflict between North and South Vietnam.
For lunch we ate at Huong Lai a traditional Vietnamese restaurant where all the staff are former street children.
The service and atmosphere was great but unfortunately the food was pretty poor. After lunch we walked to the War Remnants Museum. It provided a good insight into the Vietnam war and was quite harrowing and moving at times, especially the sections on the torture methods and the effects of agent orange, although it did appear to be a little too propagandist at times. We then walked all the way back stopping off for our last Vietnamese bia hoi (cheap draft beer). We also survived crossing the craziness roundabout I have ever come across! There were 6 exits and cars and motorbikes going round it both ways!
We ate that evening at Kim's cafe, very cheap and tasty spot, very popular with the locals and tourists alike as every table was full. For dessert we tried a place called Yoghurt Space. The concept is as follows: they have lots of different flavours of yoghurt in whippy ice-cream type machines. It is all served by the weight so you serve yourself, add a variety of pick and mix toppings, weigh it and pay for it and voila you have a tasty yoghurt pudding! We were then very ready for bed and enjoyed a good night's sleep in a proper bed.
We awoke bright and breezy and ready for our day exploring the Cu Chi Tunnels. The Cu Chi Tunnels are a 200 km network of underground tunnels situated around 30 km away from Saigon that were used to facilitate the Viet Cong's control of the area during the 1960's. We went on an organised tour and learnt how the tunnels were made, how people lived in them and different capture and torture methods that were used by the Viet Cong. The trip culminated in a descent into one of the tunnels. It was tiny and each level lower we went got smaller and smaller until we were just able to pass through in a hunched position. I am glad we only did a 60 metre stretch of the tunnel and I really don't know how people lived in there for days on end.
Back in Saigon city centre we were dropped off at the main market. This was good for two reasons, one to get a late lunch and two so Doddy could get his market fix. Walking back through the park Doddy spotted some locals playing with
From Yoghurt Space
a new kind of hack (a bit like a shuttle cock with feathers) so went and joined them for a game and liked it so much that he bought one afterwards. That evening we ate at the Hard Rock Cafe (another first for Doddy). We had been planning to go to one on our trip but hadn't got round to it yet so decided tonight was the night. We enjoyed two big burgers whilst listening to a live band. The food was good and we enjoyed the fun and lively atmosphere. We ate dessert once more at Yoghurt Space and then retired to bed after an enjoyable, busy day.
Doddy writing now…
Saturday morning we were up for our 7.30 am bus to Phnom Penh in Cambodia, although there was a few more sights we could have seen in Saigon time was no longer on our side with only a week to go before our return to the U.K.! We climbed onto our bus at 7.30 am and at 8.25 am we were still sat with the bus not yet moved, apparently due to another bus brake down we had to wait whilst the stranded passengers made it
to our bus. Shouldn't complain though as Bowks and I know all about buses breaking down. Finally at 8.30 am we set off and shortly after the ticket guy came down to collect our tickets and also collect the $25 visa fee for our Cambodian visa. Bowks and I had heard that it was possible to get a visa at the border for $20 so smelling a rat we said we would sort it ourselves on arrival. To this we were told there wouldn't be time and he was doing an express service. Staying strong we declined and said we would go it alone at the border and see how we'd do. Three hours later we arrived at the border crossing and sure enough a tourist visa was $20 so we joined the short queue and within minutes had gained our tourist visa, passed through and were back on the waiting bus. Then we sat waiting for the ticket guy and his so called express delivery service and the other passengers to re-board. Seemed his was on to quite a little money earner as ¾ of the passengers coughed up the $25 without question, an extra $5 off 40 passengers puts a nice wedge of cash in the back burner! However, Bowks and I had slipped the net and we were glad not to have fallen victim.
(Source: http://www.travelblog.org)
Collected by Vietnamhotels.net