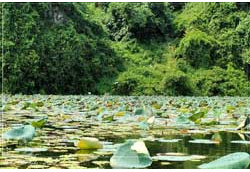 Traveling to Quan Son Lake in My Duc, Hanoi, tourists will be impressed with scenery of wild nature of the lotus lake with the mountains mirroring on the water.
The lake, about 50 kilometers southeast of Hanoi, consists of nearly 100 limestone mountains with diverse plants and historical and cultural sites. It looks like miniature of Ha Long Bay, a world attraction to tourists.
The lake, on the route to Perfume Pagoda and Kim Boi mineral stream, is an ideal place for rest, recreation and convalescence. Nature lovers can enjoy the pleasure of sightseeing, yacht cruising, island discovery and fishing.
The first destination is the ferry of Giang Noi lake, one of the three big lakes in Quan Son. Standing on the bank, tourists can see the limestone mountain ranges reflecting on the surface of the lake.
Quan Son tourist site has a surface of nearly 3,000 hectares and includes the communes of Hop Tien, Tuy Lai, Hong Son and Thuong Lam.
Visitors to Quan Son can go yachting on the 850-hectare lake which contains historical relics from the period of Vietnam's resistance against the French.
If they prefer mountain climbing, they can take a boat to some of Quan Son's most famous limestone mountains: Independence, Fruit and Flower Mountain, Trau Bac (Silver Buffalo), Hon Me (Fascinating Mountain), Da Bac (Silver Rock), Nui Ban Co (Chess Mountain) and Nui Chim (Bird Mountain).
On Hoa Qua Son (Mountain of Fruit and Flowers) they will have the opportunity to explore dense forests of orange, lime and mango trees and, if they come in Spring, they can even enjoy the breathtaking view of a whole plum forest in full bloom.
At Thung Mo in Hop Tien Village and Thung Cong in Hong Son, there is even a biology garden for visitors who are interested in rare medicinal plants and herbs and also bonsai plants.
The most striking cultural trait of Quan Son tourist site is its ability to keep its traditional village life almost intact, with their various cultural customs and festivities.
Pagodas are another spiritual aspect of life in Quan Son as proven by numerous pagodas scattered around the area. Among them Ham Long, Linh Son, Ngoc Linh Ban Long and Thung Phat pagodas are the most well-known.
In Quan Son tourists can also enjoy good food with dishes prepared from freshly caught fish, shrimps, crabs and a specialty of the area: mountain snails.
To serve tourists Quan Son is having 80 iron boats, one motorized boat, five residences and authorities in My Duc District are now focusing on developing better systems of communication and of electricity and water supplies, to make Quan Son one of the most attractive tourist sites in Vietnam.