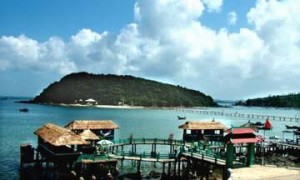 A certificate honouring Xuan Dai Bay as a National Landscape Site was presented to the Phu Yen provincial Department of Culture, Sports and Tourism on March 28.
The bay was officially recognised as a national landscape treasure, according to a Decision approved by the Minister of Culture, Sports and Tourism on January 20, 2011.
Xuan Dai Bay, with a water surface area of about 13,000 hectares, is located between Song Cau town and Tuy An district in Phu Yen province. The bay is encircled by mountains which shape delightful, unique pools. The bank surrounding the bay is about 50 kilometres long and overlooks beautiful natural scenery with an endless white sandy beach.
The acknowledgement of the bay as a national landscape treasure will help promote the site's tourism potential and create favourable conditions to exploit and develop different kinds of tourism in the locality.
The bay will be submitted for consideration as a member of the World's Most Beautiful Bays Club.