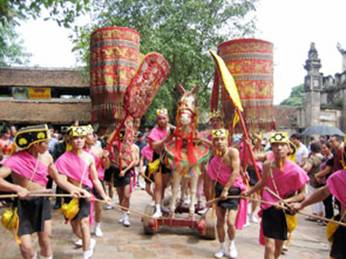 Vietnam's Saint Giong Festival has been put among 47 nominations for recognition as the world intangible cultural heritages by the UNESCO. The list was announced by the UNESCO on Nov. 9.
At present, 166 heritages of 77 countries have been recognised as world intangible cultural heritages. Vietnam has 4 heritages in this list, including the Hue royal court music, the Gong space of Tay Nguyen (Central Highlanders), Ca Tru singing and the Bac Ninh love duet singing.
Saint Giong festival is a unique traditional event in Vietnam, held annually from the 6th-12th of the fourth lunar month in many places in Vietnam to commemorate the legendary national hero who grew from a 3-year-old child into a giant overnight to help drive out invaders from the country.
The 9th of the fourth lunar month is the major day for the biggest Saint Giong festival at Phu Dong village in Gia Lam district of Hanoi where this national hero was born.
The festival is a chance for visitors to watch the performance of traditional rituals and artistic activities which have been handed down from generations to generations.