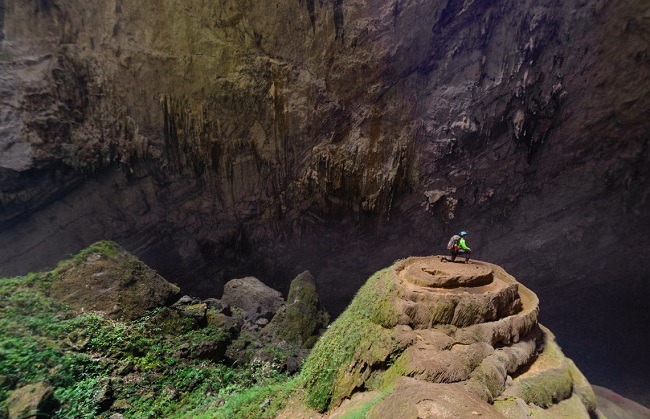 "There's a jungle inside Vietnam's mammoth cavern. A skyscraper could fit too. And the end is out of sight,"according to the assessment of the US National Geographic Magazine about Son Doong Cave, the largest natural cave in the world.
Hidden in rugged Phong Nha-Ke Bang National Park near the border with Laos, the cave is part of a network of 150 or so caves, many still not surveyed, in the Annamite Mountains.
Son Dong Cave in Quang Binh province was discovered in 2009 by the British Royal Cave Society in the World Natural Heritage Area of Phong Nha Ke Bang, with 150metres long and measures a towering 200metres in height – seven times as high as the vaulted ceiling of York Cathedral.
The cave was originally discovered in 1991 by a Vietnamese Jungle man called Ho Khanh. However Mr Spillane said no-one had entered if before because 'it emitted a frightful wind and noise which was due to a large underground river'.
Immediately, the vast cave in Vietnam began to attract attention from international media such as BBC, CNN, AP and AFP. A stunning photo taken by photographer Carsten Peter in May, 2010 showed a section of Son Doong with a width of about 90 m and a height of almost 243 m.
The British Royal Cave Society confirmed the world's largest cave has a length of nearly nine kilometres.