What do you do with three days in Vietnam's chaotic, colorful, scooter-infested capital? Jump right in and sample it all. Just remember to look both ways before crossing the road. Twice.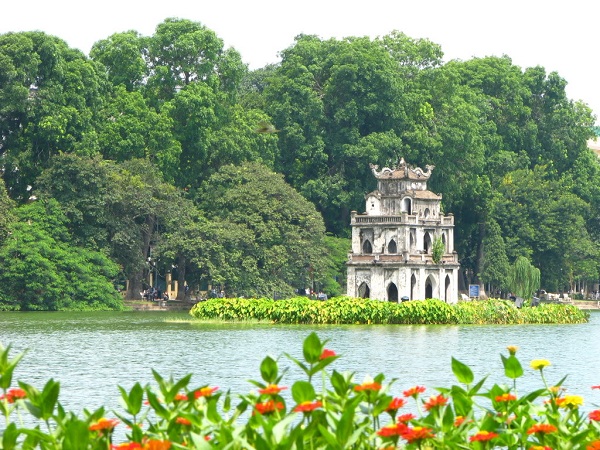 To quote just about every Hanoi guidebook, Hanoi is a "bustling" city filled with a "mix of the old and new." It features "amazing food", a "vibrant energy all its own" and is chock full of "plenty of sights to see". Now we're past the usual fluff and filler we can get to the real meat of Hanoi with three full days to do it.
But first we have to get there.
Red eye arrival
Our flight lands at Hanoi International Airport a little after 12 a.m. on a Friday morning, which isn't the most "bustling" of times at the airport. Visa pre-approval letters in hand (check www.vietnam-visa.com for Vietnam visa information) we make our way to the appropriately marked, "Visa pre-approval counter" and present our well prepared documentation to the groggy official. He is wearing regulation government sandals and smoking what must be a government regulation cigarette. One glance at our papers and we are asked to fill out official forms which are handed to his freshly woken and sleepy eyed colleague to help with the paperwork crush at the visa pre-approval counter.
We are also drafted into the cause. He hands me a pair of scissors to clip my photos to the appropriate size. No problem, I got this. Another passenger ambles up to the counter while we are deep into our work and throws off the entire synergy of the moment, prompting our visa pre-approval man to call for more help… and more importantly, more smokes. Eventually we're stamped and official so we begin our trip in earnest.
First night's a charm (or not)
Blue Paradise is definitely blue, but not quite paradise.
Hotels in Hanoi are cheap and relatively easy to find. We didn't want to book a room for four nights without knowing what it would actually be like, so we booked online at Blue Paradise Hotel for US$28 for one night. We also ordered airport shuttle pickup service. Hanoi's Old Quarter is about a 45-minute drive from the airport and we learn it shouldn't cost us more than US$10, but we opt for the shuttle at US$15 as the last thing we want to do was get in a dishonest taxi late at night.Our expectations for Blue Paradise Hotel at a whopping US$28 a night are not extremely, or moderately, or even remotely high. Four months ago I looked at a flat for rent in Hong Kong that didn't even aspire to crackhouse status. It cost US$750 a month, or about US$25 a night.
With the crackhouse memory firmly in mind, but encouraged by the prompt airport pickup, we arrive at our hotel to find a guard waiting outside. He ushers us into the dark lobby and through the bodies of hotel staff sleeping on the lobby floor, then up to the counter where we pay our driver in the dark to be on his merry way.
Once we are positively identified as ourselves (in the dark) we are shown our room, complete with waiting party of what we hear are called "clever ants" in Vietnam, cleverly relaxing in the refrigerator. Too tired to care, and feeling like very foreign foreigners, we decide to sleep despite the slutty door lock and our new clever companions.
When we wake up the next morning we discover the staff is quite friendly when fully awake. But we still check out. We want to try our luck elswhere. It takes about an hour to find the Golden Lotus, a decent hotel for US$50 a night.
One Tripadvisor customer review of Golden Lotus says, "Decided to check out the next day and found a really nice quiet room with lovely staff and a great balcony at the top of the Gia Bao Hotel. It was worth losing money not to stay at the GL Hotel another night."
Our experience was good, theirs was bad. That's the way it goes. The best way to find what you want is to stay flexible. Though our experience was good enough, yours might not be, so the wise thing to do is to book the first night only in advance.
If you aren't happy with your initial choice, or didn't book at the Sofitel Metropol Hanoi Hotel (about US$170 per night) in the first place, your first morning in Hanoi will probably be spent looking around for a hotel for the next few nights. Depending on the time of year, it shouldn't take to long to do so.
We'd suggest in or around Hoan Kiem District and the Old Quarter. There are plenty of hotels and hostels (for the backpacker types) to choose from and most had vacancies.
Get out and explore Hanoi
What comes next is based on our full three days in Hanoi and complimented by recommendations from CNNGo contributor and editor of Vietnam Pathfinder magazine Helen Clark, and some shopping finds scored by CNNGo's very own shopaholic and travel master Kristina Perez.
You're in good hands. Oh, and while you're out there keep an eye out for all of the Soviet influence.
Day one
Wander around Old Quarter and North Hoan Kiem

The Old Quarter is a great first jaunt in Hanoi with its insane energy and unique character. All manner of foods, creatures and scooters can be found in the Old Quarter. Scooter dodging is required, and the local Hanoians have it down to an art. Foreigners not so much. But with a little practice one might have only a moderate chance of significant bodily injury while crossing roads. That chance slightly increases during rush hour.A map of the area is useful, but not required unless you have somewhere specific to go. Just get your bearings for North and South by remembering Hoan Kiem lake is to the South. Having a landmark in mind is a good idea for retaining a sense of direction.
For a decent wander in the Old Quarter, you'll need at least four to five hours, preferably in the morning to early afternoon when it isn't so blistering hot.
Try the local coffee
Weasel coffee is produced in the same manner as civet coffee. The weasel eats the beans. Poops them. They get picked out then ground. Viola!
Vietnamese love their coffee, and there is no lack of coffee shops offering up many java varieties. During our trip we randomly check out five coffee shops and try different kinds of iced and hot blends. Word of warning: Those that like their coffee light will need lots of sugar as many of the Vietnamese blends can be potent, eye-popping cups of dark black goodness. Tip: Don't drink the tap water, but ice is generally OK in Hanoi as the bars, restros, and other venues tend always to use clean-water ice not made from tap water.
Catch a Water Puppet show
As a respite from the heat (or cold humidity in the winter months), drop in and see a water puppet show at Thang Long Water Puppet Theater. Water Puppetry is uniquely Vietnamese, and originated in near Hanoi nearly 1,000 years ago. Today, visiting the Thang Long Water Puppet Theater is almost as interesting for tourist watching as it is for checking out the traditional puppet performance.Rows of Germans, Americans and Canadians line the seats during our visit. The show itself features the dancing forms of puppets manipulated by their puppeteers in a shallow pond or wading pool and is quite entertaining. It is always amusing to learn random cultural facts such as fart jokes were apparently as popular 1,000 years ago as they are today. (Thang Long Water Puppet Theater info: 57B Pho Dinh Tien Hoang, admission 20,000 – 40,000 VND, shows at 6:30 p.m. and 8 p.m. Monday – Saturday, 9:30 a.m., 6:30 p.m. and 8 p.m. Sunday, Tel: 824 9494, website: www.thanglongwaterpuppet.org)
Try the street food
Hanoi is renowned for it's street food, with some calling it the best in Vietnam, and potentially even in Asia. There are street food vendors all over the city, with a large concentration in the Old Quarter and around Hoan Kiem Lake. Sanitation concerns aside, those looking to truly delve into the local culture should definitely try digging in at one of the many barbecue stalls, noodle stands, tea and coffee stands, and corner shops. For those lacking the intestinal fortitude or gambling mentality, there are plenty of other edible options in the city. These options are very cheap as well, with many snacks and meals easily costing under US$2.Keep an eye out for some of these Vietnamese dishes which can all be had for under US$1.
Tip: We also suggest checking out Stickyrice, a fantastic foodie blog that digs deep into the Hanoi food scene.
Wrap it all up with a steak dinner
Head up to West Lake for a hearty steak dinner. CNNGo's Helen Clark suggests Chien Beo. "Chien Beo is one of Hanoi's best local steak houses, doing a Vietnamese take on steak and called 'bit tet'. It's a common enough dish but often the steaks are thin, leathery and drowned in sauce. Not here. Steaks. Steaks stuffed with cheese. Rolls of beef. The place is greasy, hot and gets very, very noisy and for most, this is part of its charm. Food is more expensive than a street side bowl of noodles, but much cheaper than 'Western-style' places in town. And doubly as good." (192 Nghi Tam street, Yên Phụ, Tay Ho district, Hanoi, Vietnam.)
Day two
Time to see some history and cook some food. With the first day gone and a better grasp of the lay of the land, its time to do what all good travelers do; see some of the local museums and monuments. Most of the historical locations can be found around central Hanoi. We were able to do most of these in one day just by walking. We started at Hoan Kiem Lake and the Ngoc Son Temple, then down to the French Quarter and the Hanoi Hilton, then to Temple of Literature, then up to the Vietnam Army Museum, and finally to the Ho Chi Minh Mausoleum and Nha Tho Cathedral.
If staying nearby the lake, or venturing close to it, then you might as well stop off and see the giant preserved turtle (circa 1968) in the island temple of Ngoc Son Temple. Turtles are a large part of local lore, and the story behind the turtle at Ngoc Son Temple is no different. The giant turtles were thought to have disappeared until a photo surfaced of one in the lake a few years ago. (Hours: 8 a.m. – 5 p.m. Admission: 10,000 VND (US$0.53))
Hoa Lo Prison aka 'The Hanoi Hilton'
The Vietnamese staff, obviously not lacking irony of their own, laid out this mat leading upstairs.
A dummy prisoner sits behind bars in the Cachot section of the prison. The Cachot was not a place you wanted to be.
The Hanoi Hilton was named thus by United States POWs during the Vietnam war, the likes of which included U.S. Senator John McCain. It's a fascinating place, especially from an American perspective. Who knew that the U.S. pilot POWs had such a great time in the klink. They got to make Christmas murals, play chess and basketball and generally have a swell POW experience. At least that's how it is portrayed. (Pho Hoa Lo and Pho Hi Ba Trung, admission 5,000 VND, 8 – 11 a.m. and 1:30 – 4:30 p.m. Tuesday – Sunday)Tip: It is also worth mentioning the prison is directly next to the Hanoi Towers, which has a slightly pricey yet nicely air-conditioned restaurant.
Van Mieu (Temple of Literature)
Inside the Temple of Literature.
The Temple of Literature is a long, hot walk from the Hanoi Hilton. In retrospect, it is advisable to grab a taxi to cover the distance. The grounds are comprised of traditional buildings, courtyards, and gardens first founded in 1070 AD.Tip: You probably won't need more than 40 minutes to see the entire grounds unless you have a tour guide explaining things to you.
An American warbird sits and rusts at the Vietnam Army Museum.
The Vietnam Army Museum as a "tourist attraction" is somewhat of an enigma. One enters expecting to see tributes to the Vietnamese Army, only to discover more captured and wrecked American military hardware than Vietnamese. The most impressive of these displays is the "war meets art" mound of plane debris including a B-52, F-111 and a French transporter stacked high in the center of the courtyard and surrounded by other intact planes, a helicopter and artillery. At the center of the pile is a poster of a female Viet Cong soldier dragging the wing of an American plane.
Tip: Walking from the Temple of Literature to the Army Museum takes about 25 to 30 minutes and requires crossing one seriously congested roadway.
Recommended to us to see not for the embalmed body of Ho Chi Minh, nor for hulking grey grounds. No, the Ho Chi Minh Mausoleum was recommended because it is the only place in Hanoi where you can take pictures of soldiers and not worry about losing your camera in the process. (Houng Vuong and Le Hong Phong, 8 – 11 a.m. Tuesday – Thursday, Saturday and Sunday last entry at 10:15 a.m.)
Nha Tho Cathedral is Vietnam's answer to Paris' Notre Dame, with its twin towers and Gothic arches. (Pho Nha Tho and Pho Nha Chung, Hours: 5 a.m – Noon, 2 p.m – 7 p.m)Tip: Its a bit of a walk to here from either the Army Museum or the Ho Chi Mien Mausoleum as we found out after much scooter dodging.
Highway 4 home cooking
Time to round out the day of culture with a bit of a "how-to" with a serious glutinous reward. Helen Clark suggests Highway 4 locations as great places to learn about Vietnamese and ethnic minority specialties. Clark says, "They have been serving north Vietnamese and ethnic minority specialties for over ten years. For the pat couple they've been running a cooking school on the rooftop terrace of one of their outlets. A half-day group cooking lesson sees the group cook a menu's worth of food together, in full chef outfits. You can then enjoy the fruits of your labor with a full sit down lunch and a souvenir recipe booklet to take home."
Day three
Time to wind it down with some shopping, great eats and drinks.
CNNGo's Kristina Perez prowled the streets for some of the top shops. Here's what she found in her words.
Shopping
Three Trees: The exclusive showroom of the Belgian-owned Discovery Diamonds, Three Trees features unique creations combining gold, gemstones and South African diamonds. Delicate and ornate designs are inspired by nature and feature traditional symbols. You can watch the goldsmiths and diamond cutters at work upstairs and even commission your own original piece. (5 Nha Tho Street, Hoan Kiem District; Tel. +84 4 9288 8725; [email protected])
Vietnam Quilts: This non-profit boutique sells delightful, high-quality patchwork quilts in classic and contemporary styles. Founded in 2001, Vietnam Quilts employs rural women in the Mekong Delta who create playful designs in cotton, silk and taffeta for bedding, children's clothing, aprons and table sets. Shop till you drop while supporting a good cause. (13 Hang Bac Street, Hoan Kiem District; Tel. +84.4.3926.4831 ; www.mekong-quilts.org)
L'Epicerie du Metropole: This gourmet food shop offers all of the pastries and goodies served at the Sofitel Metropole's legendary high tea, including its famous chocolates. Their delicious macaroons in raspberry, lychee and coconut flavors rival any that can be found in Paris. The shop also stocks fine foods imported from Europe such as Fauchon and Hediard. (15 Ngo Quyen Street, Hoan Kiem District; +84 4 3826 6919, ext 8702; [email protected])
Things of Substance: This hip Australian-run boutique stocks trendy men's shirts à la Paul Smith and sleek women's sundresses in Western sizes. There is also a range of shoes, belts, bags and good quality silver jewelry. Stock up on casual chic that's ready to wear. (5 NhaHoan Kiem District; +84 4 3828 6965; www.prieure.com.vn Tho Street, )
Tân Mỹ: Established in 1968, this family-run shop is well regarded for its finely embroidered linens, silks and cottons. Here you can find top-notch handiwork on baby clothes, pillow shams, sheet sets and table runners. The napkin and place mat sets make great gifts. (16 Hang Trong Street, Hoan Kiem District; Tel. +84 4 3828 8848; www.tanmyembroidery.com)
Hanoi Gallery: A must-stop shop for propaganda poster aficionados. Similar in style to those found in China and North Korea, the lively Vietnamese posters are quite arresting. Choose from idyllic pastoral scenes with slogans such as "Don't Plant Opium Plants" or idealized depictions of Uncle Ho. (17 Nha Chung, Hoan Kiem District; Tel. +84 4 3928 7943; [email protected])
Craft Link: Just down the street from the Temple of Literature is this excellent arts and crafts emporium. Pick up a Vietnamese water puppet of your very own or choose from a range of traditional lacquer-wares with mother of pearl in-lays. There are also brightly-colored home-wares such as jewelry boxes, silk kites and hair accessories. (43-51 Van Mieu Street, Van Chuong District; Tel. +84 4 3843 7710; www.craftlink.com.vn)
Dinner at Bobby Chinn's
Having moved his downtown restaurant into his home at West Lake, Bobby lives upstairs and cooks downstairs. The former bus boy, trader, comedian, and now Discovery Travel & Living show host probably won't invite customers up to use his private bathroom, but his restaurant will definitely serve some up some great food. (Website: www.bobbychinn.com, dinner for two costs about 1.3 million VND)
Hit up the bars
Jazz Club Minh, Old Quarter, 31 Pho Luong Van Can.
Maybe start off with some Jazz at Jazz Club Minh until 12 a.m then head out to get a look at — and a sip of — Hanoi's speakeasy vibe. Clark says, "Most guidebooks to Hanoi will tell you that all bars must close at 12 a.m. This is true, but another grand example of the gulf between what's written and what's enforced. You might see the odd "No Smoking" sign through the cigarette haze in a bar as well."She adds, "On occasion Hanoi's bars do close early, or seem to. If in doubt simply listen closely at the roller door or look for the drunk expats milling around outside. A swift knock on the door should ensure entrance to that night's speakeasy. Bars on Ta Hen street between Luong Ngoc Quyen and Hang Buom go in for this particularly."
Everything else
We found three full days just about right for a "get-out-and-see-it" trip. This may of course differ for others, and for those with a desire to get out of the city for a day, Halong Bay is about a four-hour journey. There are numerous tour companies around Hanoi that will set up a trip for the following day, with many offering luxury junk cruises.
Some fast facts
The best time to go is in Spring from February to April.
Generally pack light as there's lots of shopping (see above).
Vietnamese Dong cash comes in huge denominations. US$400 is equal to about 7.6 million VND.
US dollars are accepted everywhere.
Avoid the roaming hawkers when able. If your shoe breaks, expect somebody to run up, take off your shoe and start fixing it before a price is quoted. This will cost you.
Hanoi Taxi is the most reliable and trustworthy cab company according to those living in Hanoi, and it is best to avoid the tiny cabs.
If you value your life, it's best to keep off the motorbike taxis. For those seeking a life-and-death thrill, go for it. It won't cost you much.
The Hanoi Towers have an apartment complex with a nice swimming pool. It is officially only for residents, but it seemed open to just about anybody.