The former trading port of Hoi An is a great place to sample some of Vietnam's culinary delights while updating your wardrobe too.
By Jessie Richardson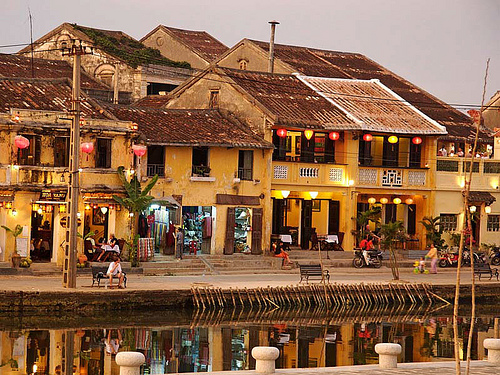 Hoi An: Made up of a mix of Chinese, Vietnamese and colonial architecture
Hoi An offers a relaxed stay, in anything from dirt-cheap hostels to cash-devouring resorts. iTravel-Vietnam points out the highlights of this tourist haven on the eastern coast of Vietnam.
Getting there
Depending on time and monetary constraints, there are a variety of ways to reach Hoi An. Almost all modes of transport end in the city of Danang and from there it is a 45 minute journey (either taxi, motorbike or car) to Hoi An. Both Jetstar and Vietnam Airlines fly to Danang at least daily with prices starting at around US$50 per person each way.
For the slightly more adventurous (or slightly poorer), the overnight train departs Hanoi at 7pm and arrives in Danang at approximately 10.30am the next day. A tourist class soft sleeper costs US$52 or you can really rough it in a hard seat for US$36. Having an "Easy Rider" moment? Hoi An Motorbike Adventures offers a two day motorbike adventure from the nearby city of Hue to Hoi An. The journey follows the Ho Chi Minh Highway over mountain passes and through ethnic minority villages before arriving in Hoi An. Prices start at US$140 per person.
Where to sleep
Hoi An is full of hotels ranging in price from US$15 per room per night right through to US$2,000 villas. The frosted pink hues of the Cua Dai Hotel give it a slightly wedding cake-esque appearance which is oddly appealing. The hotel is light and airy and is a short walk to the center of town. All of the hotel's 24 rooms are equipped with air conditioning, wireless Internet, satellite TV, and a refrigerator. Best of all, the hotel has a swimming pool. Rooms start from US$30 per night inclusive of government tax, service charge, and daily continental breakfast. Telephone +84 510 862 231.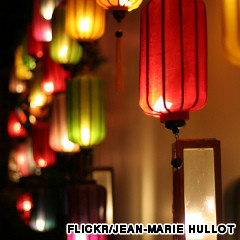 The beautiful decorations of the Cua Dai Hotel.
For a more up-market sojourn, the Life Resort Hoi An is certainly dripping in understated colonial elegance. Situated on the Thu Bon River, the hotel is housed within lush, green gardens that provide a welcome relief to the hustle and bustle of the nearby market. All of the rooms come with a private porch and include all of the modern comforts in a charming French colonial exterior. Prices start from US$112 per person (not including taxes and surcharges). Telephone: +84 437 925 079/80.
Imperial binge
The cuisine of Central Vietnam is strongly linked to the imperial emperors of the Nguyen Dynasty and as such is often complex and luxurious in both taste and appearance. Once of the most famous dishes of Hoi An is 'Banh Xeo' (Country Pancake) — and no trip to Hoi An is complete without it. This crispy fried pancake made from rice flour is stuffed with pork, prawns and bean shoots and served with fresh herbs and the ubiquitous nuoc mam (fish sauce). The Ancient Town is so bursting with delicious food that it would be sensible to anticipate at least a 3kg weight gain.
The Cargo Club offers French style cakes and ice cream as well as a huge array of savory delights (try the roasted fennel and goat cheese salad). The rooftop terrace offers enchanting views of the Thu Bon River, while the patisserie veranda is a lovely place to watch life drift by. Either way, you will feel like Catherine Deneuve in "Indochine". Alternatively, cross the street and enjoy a quiet beer in the courtyard of the Hai Scout Café (98 Nguyen Thai Hoc).
Suits you
Let's be honest, one of the biggest draws of Hoi An is the abundance of tailors. Every street is lined with tailors waiting to kit you out with a new wardrobe. Most tailors can copy items from a picture, allowing you to indulge in all of your couture-related fantasies. For more intricate pieces, head to Yaly Couture who are able to do exquisite beading and embroidery. For simpler items any of the tailor shops will be able to make items within 24 hours at a very reasonable price. Don't have shoes to match your frock? Never fear, you can also get custom bags and shoes made.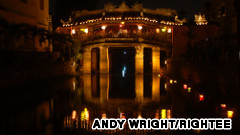 The Japanese bridge at night.
For culture vultures there are a variety of museums, temples and merchant houses that are open for tourists to explore. The most famous site in Hoi An is the Japanese Bridge whose beauty turns any hack photographer's efforts into a masterpiece with just one click. Tickets for these sites are available at the tourist offices dotted around the town.For non-shoppers or those looking for a hands on experience, head to the Morning Glory Cooking School for Ms Vy's famous cooking classes. A 1.5 hour class will set you back US$18 and best of all you get to eat a spectacular meal at the end — think fresh spring rolls, green papaya salad and fish in banana leaf.
If you are neither a shopper nor a chef and if the weather is fine, the Cham Island Diving Center offers one day diving and snorkeling. For US$65 per person explore coral reefs with two certified divers and enjoy lunch on a paradise island.
(Source: CNNgo.com)