Once called "Little Paris" by the French colonists who founded it, Dalat Vietnam is now known for its beautiful mountain scenery and delightfully cool mountain weather. Though not quite on par with Nha Trang or Ha Long Bay in terms of being a tourist destination, Da Lat has a lot to offer to those interesting in trekking, natural sights, and motorcycle trips. This is a great place to get to know Vietnam's highlands.Arriving via car or bus provides an opportunity to view the switch from tropical jungle surroundings to panoramic mountain views. The land around Da Lat is a place of coffee farms and colorful small towns. Though the road is narrow, the ride offers enough scenery to distract riders from Vietnam's famously dangerous traffic.
Xuan Huong Lake is a destination for Vietnamese tourists. There are paths around this wide body of water, usually used by honeymooners, as Da Lat is the honeymoon destination of choice for people from Ho Chi Minh City. Boats can be rented, although the views from the shore are just as enjoyable as anything that can be seen afloat.
Further afield, Da Lat has several scenic waterfalls. renting a motorbike is advisable, as there is 10-15 miles between the falls and Da Lat. Those who do not ride motorcycles can hire a local motorcycle driver to take them around. Many drivers speak good english and know where the best sightseeing spots are. Prenn Falls is a good place to stop off and enjoy a brief hike.
Tuyen Lam Lake is another trekking destination. The lake is known for its emerald green waters and the scenic mountains which surround it. There are several outfitters who can organize longer treks or motorcycle tours. There is a lot to see around Da Lat, and the most idyllic places are usually off the beaten path.
There are opportunities to tour coffee farms or sing karaoke and enjoy a beer at some of the small places perched on the walls of a valley.
Da Lat does have a higher elevation that coastal Vietnam, and the temperature can get quite cold, especially during the winter months. Aside from packing appropriately, visitors will be able to find reasonably priced cold weather apparel at Da Lat's Markets. Some of the knit clothing is handmade.
Da Lat is a place with many natural sights. Though you have to get off the beaten path to see most of them, it is worth it, especially since the area is so different from Vietnam's popular coastal areas.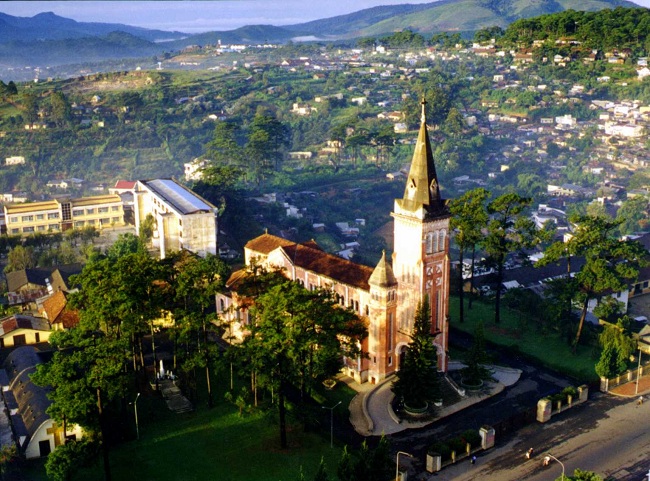 Da Lat (Xuan Huong Lake is in the background)
(Source: hubpages)