Ly Son Island is now well known for its juicy, nutritious Ca nuc (round scads) which are now available and brought in by boats in abundance to the mainland.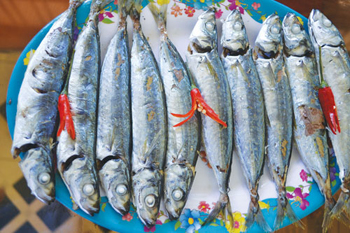 Steamed round scads (Photo: Thanh Nien)
Ever since the Sa Ky Port-Ly Son high-speed waterway route opened for travel, the 18 mile distance has been cut short from three hours to only fifty minutes. Ly Son round scads are therefore available fresh as soon as they arrive on the mainland.
However, enjoying the round scads at the island soon after they are caught from the sea is even more enjoyable.
People of Ly Son usually process the round scads in two ways. One is by steaming them and serving with girdle cake. The other is by slowly simmering the fish on fire and eating it with hot rice.
After procuring the fresh fish straight from the boat, the round scads are washed thoroughly in a pan filled with fresh water, a scare commodity on the island during summer months, even when there is an abundance of round scads.
The fish gills and guts are removed to keep the silvery color of the fish scales to make it attractive in appearance when served.
Round scads are placed on a grill which is rubbed with a little oil to prevent the fish from sticking. The fish is then covered with a layer of spring onions before putting in a pot to steam.
About 20 minutes later, when a delicious aroma pervades the kitchen, the fish is taken out of the pot.
Each round scad is then rolled in a girdle cake with some slices of star fruit and served with fish sauce which is mixed with fragrant Ly Son garlic. The girdle cakes must be soft and pliable so as not to break while rolling with the fish.
The simmered dish is made by carefully marinating the fish before cooking it on a low fire until it dries out completely.
(Source: SGGP)