Ho Chi Minh City in southern Vietnam is a metropolis on the move. The commercial hub of Asia's newest tiger economy teems with motorcycles and scooters; there are 3.15 million of them officially registered, with about a thousand new scooters being signed up every day. They flow along the streets en masse, 24/7, like criss-crossing shoals of fish. From what I can tell, the average occupancy of these machines is about 2.2. Three-up is common; four-up, not unusual. On a couple of occasions, I think I saw five-up including toddlers.
In a tapering 1,500km-long country like Vietnam, a sense of nationhood has been something of a struggle to come by. However, the motorcycle could be riding to the country's rescue. This is a nation that lives in the saddle. It eats, sleeps, holds neighbourly conversations (at 70kph, with just a few inches separating interlocutors as they buzz down the street), reads newspapers, carries washing machines, walks the dog, transports pigs, chickens and ducks, and works on laptops, all on motorbikes. If you see a pile of furniture tottering down the street, that'll be someone moving house on their motorbike. Crossing the road in Ho Chi Minh City requires faith. Step out and let the stream eddy miraculously around you, and be sure not to panic halfway across and change direction. That could be fatal.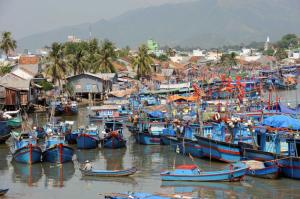 Paddles and pedals: fishing boats in the resort and market town of Nha Trang (Getty Images)
Until crash helmets became mandatory earlier this year, motorcycles were notching up horrific casualties: one thousand motorcyclists a month, apparently. Now, crash helmets are bona fide fashion items. Even when not saddled up, young Vietnamese flaunt them about town, emblazoned as they are with colourful designs. Face masks, too. You find surgical white masks being worn, as well as coloured scarves wrapped around the face, Lone Ranger-style. The women complement the look with elbow-length silk gloves to prevent their arms getting sunburnt. The effect of the gloves, masks and helmets is to transform Vietnamese women into ninja Catherine Deneuves caught in a dash from operating theatre to movie premiere.
The Caravelle Hotel is the place to shake off jet lag. Opened in 1959, with bullet-proof glass, it was the base for The New York Times, The Washington Post, NBC and CBS during the Vietnam War. Journalists and armchair strategists covered the closing exchanges from the top floor bar. The hotel overlooks the opera house, the Hotel Continental, where Graham Greene wrote The Quiet American, and the twin spires of Notre-Dame cathedral, legacies of French colonialism whose imprint is still clearly visible on this haphazard city. Every side-street shows the accent of pre-war France in its shutters, balconies and Art Deco flourishes.
Elsewhere, a less romantic, more hard-edged version of Ho Chi Minh City is taking over, as newly minted skyscrapers reach upwards like a graph of soaring capitalist growth.
What should one see? The Reunification Palace, where the president of South Vietnam lived, is a 1966 building eerily reminiscent of the Royal Festival Hall. Its occupation by communist forces on 30 April 1975 marked the end of the Vietnam War. The tanks that smashed through the gates that morning are still in the grounds, as tourist attractions. The palace shows, if nothing else, what frightful taste the presidents of South Vietnam had: featureless concrete vistas offset with the most hideous soft furnishings. Goodness knows how it ever past the feng shui man.
Everywhere in Ho Chi Minh City you see war relics – a gun, a tank, a military vehicle, an aeroplane – memorialised into tourist attractions or civic amenities. The War Remnants Museum is a refreshingly harrowing exhibition of the horrors of war, rendered in photographs, installations and military hardware. It makes the grisly Imperial War Museum in London look like Disneyland.
For a people that saw off the French and the Americans within the space of 21 years, the Vietnamese are a remarkably friendly lot, and welcome visitors of all nations, including Americans and the French. If this was England, you'd never hear the end of it: the Vietnamese, in contrast, have a wonderful calm acceptance of the past and seem focused solely on the future. This is a quality that the West secretly admires.
Ho Chi Minh is worth a day or two, but it is good to get out of the city. Two hundred miles to the north-east, you find Ninh Van Bay, the jewel of the 3,260km Vietnamese coastline. Arcs of honey-coloured sand, a warm sea studded with coral reefs, a fan-shaped cluster of islands to keep off tsunamis, a mountain rampart to guard against typhoons, and the sunniest climate in Vietnam… these are what make Ninh Van one of the most beautiful bays in the world. Nha Trang, the main town, spreads out behind the beachfront promenade, where every morning thousands of Vietnamese perform t'ai chi among the topiary.
Hailing a trishaw, I plunged into the massing scooters of the rush-hour traffic to find the beating heart of the town, Nha Trang market. This must rank as among the culinary wonders of the world. There are more varieties of fruit, vegetables, herbs, spices and pulses here than you can shake a chopstick at, along with several things in the meat and fish section that would give a society for the ethical treatment of livestock a collective heart attack.
I spent a morning dodging bicycle panniers laden with pomelos, ducking beneath crates of mangos on vendors' heads, sidestepping porters balancing swing-basket yokes filled with rice, and puddle-jumping between stalls selling fish and seafood kept alive by having water splashed on them. The narrow alleys were filled with delivery men, fresh ingredients, the noise of motorcycles and horns, and customers dawdling or catching up on gossip. You could hear the haggling for miles.
Vietnamese cuisine is a close cousin of Chinese, thanks to China's occupation of Vietnam for the thousand years up to the 10th century. But the Vietnamese tend to use more fresh herbs than the Chinese, and they love soups and steamed fish. However, once you have covered the basic rice/soup/fish combinations, Vietnamese cuisine goes way off-piste. Very few species of animal in Vietnam escape the meat cleaver, u o wok and burner. Just about every animal in the country has a dish devoted to it, and sometimes a restaurant, too. This flair for gastronomic improvisation is a legacy of war. Faced with destroyed fields and nothing to plough with, Vietnamese cooks were reduced to experimenting with bat, cat, rat, dog, seahorse and the celebrated 18-inch mouse-eating Vietnamese centipede.
"In the Mekong delta [southern Vietnam], you eat a lot of snake, gecko and turtle," said Trung, my guide. "Cobra is a favourite. The blood is served with rice wine. The heart you knock back in one, while still beating – bang-bang! – and the meat is served both grilled and as a soup."
Snake is the chicken of south-east Asia. If you've travelled in this part of the world, you've probably eaten snake several times without knowing it. Since December last year, airport officials at Hanoi have uncovered at least two consignments of smuggled snakes. One was labelled "seafood". It contained one ton of live rat-snakes.
My rickshaw driver parked outside what looked like a motorbike shop. A palisade of new scooters gleamed outside. Upon closer inspection, the premises resolved into a café. This was Bac Hai, Nha Trang's premier pho opportunity. Pho, a noodle soup, is Vietnam's national dish; it may have originated from French pot-au-feu – whose last syllable it shares.
The interior of Bac Hai is as basic as a beer crate. You sit on red plastic stools and eat off metal trestle tables, with what look like betting slips for napkins. The noodles are served in a soup with chunks of beef or pork or sna… sorry, chicken. With lemon and chopped Vietnamese basil, a bowl of pho makes one of the most rewarding ways of spending a dollar.
Every fifth shop in Nha Trang appears to be a coffee shop. In fact, the whole country is on a caffeine high, as you might expect from the world's second biggest exporter of coffee (after Brazil). Coffee is a Vietnamese ritual. Hot water drips through a tin filter placed on top of a glass. Once the water has seeped through, ice and condensed milk are added and the concoction is stirred and served. It tastes like coffee ice cream and is the perfect antidote to Vietnam's perennially sweltering climate.
Nha Trang is primarily a market town and beach resort. It is also the birthplace and home of a local cultural icon: Long Thanh, the photographer whose black-and-white images capture the soul of the Vietnamese people, set against moody landscapes. His Hoang Van Thu Street gallery is well worth a visit. Thanh wanders around town and the hinterland taking extraordinary shots of archetypal Vietnamese scenes of bicycles, baskets, rickshaws, women in their conical hats, crones and moments of every day life, images that have merited Thanh more than 57 international shows – and there isn't a single war-scene among them.
Where to stay in Nha Trang? If you want real value for money, there are hundreds of hotels catering for Vietnamese holidaymakers. Vietnam's average annual wage is US$600 (£307). Were you to go native in Nha Trang, you could live like a king for a few hundred pounds. But if you want to indulge yourself, the Evason Hideaway at Ana Mandara is the only hotel built directly on the beach (all others are set behind the promenade). It comprises villas, pavilions and walkways set in a formal garden ablaze with tropical plants. You have to watch where you walk, in case you tread in one of the water features with their very hungry goldfish.
"The average room costs US$188 [£99] a night," said Lionel Valla, the manager. "You can have a one-hour massage for US$45 [£24]. Vietnam is the best value in south-east Asia. And we have a 600-metre beach."
Even though the Ana Mandara is hemmed between the promenade and the beach, it feels like a calm oasis. If you really want to escape from the crowds, the rickshaw rallies and scooter races, then head to the Six Senses Hideaway Ninh Van Bay, accessible only by boat, seven miles across the bay. Here, you enter a realm that has less to do with Vietnam and more to do with the imagination of its owners, Sonu and Eva Shivdasani. It's a place you visit if you want to see Vietnam by looking down the wrong end of a telescope.
The Shivdasanis have gone for the natural look. Everything is designed to look as undesigned as possible, and as close to a piece of driftwood as possible: call it low-impact chic. A chair or bathroom sink is not just a chair or bathroom sink: it comes wrapped in a whole sustainable, carbon-neutral, light-footprint philosophy. It is a five-star Robinson Crusoe experience with the mod cons out of sight, and with terrific food, wine and service. I spent three days there, mesmerised by the luminous splendour of Ninh Van Bay; the water, the air, the light, melding colours and sheer lack of motorcycles.
It sounds odd to say that Vietnam seems relatively unspoilt by hordes of foreigners when, during the last century, it was trampled over by the French, the Japanese, the French (again) and Americans. It also had million of tons of bombs dropped on it, as well as horrific quantities of Agent Orange. But a visit during these more peaceful times is a chance to marvel at how this charming country has shrugged at the horrors of the past, drawn a line under them, and is moving forward to make a different type of history – on scooters.
Traveller's Guide
Getting there
The writer travelled with Qatar Airways (0870 389 8090; www.qatarairways.com), which flies to to Ho Chi Minh City via Doha.
Alternatively, Air France (0870 142 4343; www.airfrance.co.uk) flies via Paris.
To reduce the impact on the environment, you can buy an "offset" through Abta's Reduce my Footprint initiative (020-7637 2444; www.reducemyfootprint.travel).
Staying there
Caravelle Hotel, 19 Lam Son Square, Ho Chi Minh City, Vietnam (00 84 8 823 4999; www.caravellehotel.com). Doubles start at US$234 (£123), including breakfast.
Evason Ana Mandara, Beachside Tran Phu Bloulevard, Nha Trang, Vietnam (00 84 58 522 222; www.sixsenses.com/ana-mandara). Doubles start at US$306 (£161), room only.
Six Senses Hideaway, Ninh Van Bay (00 84 58 728 222; www.evasonhideaways.com). Doubles from $844 (£444), room only.
Visiting there
Long Thanh Gallery, Hoang Van Thu Street, Nha Trang City, Vietnam (00 84 58 824 875; www.longthanhart.com)
Red tape and more details
British passport-holders require a visa to visit Vietnam. These can be obtained by post or in person from the Embassy of Vietnam, 12-14 Victoria Road, London W8 5RD (020-7937 1912; www.vietnamembassy.org.uk) and cost £38.
www.vietnamtourism.com; 00 84 4 942 3760
By Rory Ross
The Independent (UK)
August 9, 2008
Collected by Vietnam Travel Blog