To many people, stilt houses are just a distant memory, but Roda Nai Linh from Don Duong District in the province of Lam Dong lives in one of those unique houses, full of Tay Nguyen (Central Highlands) artifacts.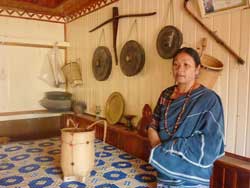 The house was built more than 60 years ago by Nai Linh's father, and still has many of the original architectural features of the Co Ho ethnic group. Sitting 2m above the ground and split into two rooms, the house faces southeast and is 60 sq.m in area.

Many of the artefacts in the house are still used in the everyday lives and customs of the Co Ho, such as decanters, gongs, wooden trays, fishing-tackle, blankets and papooses, including one that belonged to Nai Linh's great grandmother. There is also a valuable jar more than 100 years old through which ruou can (rice wine) is drunk out of a jar through pipes.
"All of them are from my great grandmother's era. The Co Ho people in our M' Lon Hamlet like to look after their antiques and maintain their cultural values. I hope the next generations will continue to uphold the traditions of our people," said Nai Linh.
Her eldest daughter has spent over VND100 million (US$4,700) restoring the rear of their house.
Nai Linh's house attracts many tourists. It is also the venue for family gatherings and ceremonies. However, there are very few stilt houses left in Lam Dong, due to the Co Ho tradition of dividing their property when their children marry.
The Co Ho people have a long history of traditional culture, but with the development of the economy and society, many of these traditions are gradually being buried. Nai Linh realised this, and was determined to preserve the house and artefacts that were handed down to her from her father and sisters. In her efforts to preserve and promote national cultural identity through her stilt house and artefacts, Roda Nai Linh deserves to be praised.
Source: VNS
Collected by Vietnam hotel