From the garden by Bach Thao, throught Hoang Hoa Tham – a streets dreaming of Hanoi capital: Co Ngu Road, now a Thanh Nien (Youth street) street , is located between every two plants and two green lake still waves. Two days this ancient lake is just one of many names: Xac Cao, Kim Nguu (buffalo Gold), Lang Bac (billow), Dam Dam (Mu Suong pond).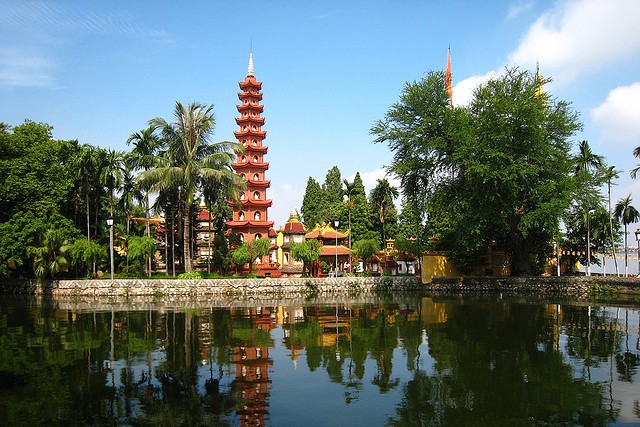 400 years ago, people built Co Ngu path (that is maintained after the reading of Co Ngu ) prevent a sometimes this is a small Truc Bach , the lake is a large West.
With an area of 466ha, 17km perimeter, around the many temples and pagodas, landscape, west, was a source of inspiration for many test doctor. In the XVIII century, Nguyen Duc Quy has poetry's West lake:
Boat containing lunar đài short that snow
Institute integrated Diep flower dew pond
Green lotus architecture in lunar wobble
Bluish green of yellow flowers and flat direction tomorrow.
The poem war written by Tay Ho Nguyen Huy is a the good poem warm national character and sing the praise Tay Son dynasty in inspiration before a beautiful West lake.
Musicians Trinh Cong Son in a way to Hanoi that encountered under a Western lake sunset images "Gold water quiver – shore is calling , curtain of dew miss, Sam Cam brid clap to fly sun" and creation a beautiful songs.
From Co Ngu way with lead to a gore is a west side edges, it's called qui beach turtles, also called Kim Ngu beach. On the main beach of this king of the Ly was built Thuy Hoa temple make holiday place. The king of the Tran built Ham Nguyen to the still landscape. Background to the temple is now the location of the temple to the oldest type of country: Tran Quoc pagoda.
This original pagoda is Khai Quoc Pagoda (Mo nuoc) from the morning, the Ly Nam De (544 – 548) in the Red river, northeast of Yen Hoa ward is Yen Hoa Phu, near the Long Bien bridge now. At the Khai Quoc pagoda, under the Ly Nhan Tong dynasty, Y Lan – queen mother – have open vegetarian regale the vereran bonze of hight vitues. She is often go to pagoda with all the monks converse.
To the Le Thai Tong (1434 – 1442) was renamed An Quoc Pagoda is. Every year on the Red river water to erode error waterfront. Therefore, in 1615, to the King Le Kinh Tong, Yen Phu village moved to the pagoda Kim Ngu hillock . Dynasty under King Le Hy Tong (1676 – 1705) contains all the renamed Tran Quoc pagoda, the horizontal lacquered broad with word "Tran Quoc Tu" hanging in the home's current main. Period Trinh Le, where is chosen as the Tran Quoc also chaplain for the rest when walking in a Western lake . Year 1842, King Thieu Tri visited the pagoda renamed Tran Bac, but people still familiar name was Tran Quoc Pagoda.
Tran Quoc Pagoda is not only proud of thickness of the historic building but also on the high growth and have attached to the temple. The bonze and powwow as Khuong Viet, Thao Duong, Thong Bien, Vien Hoc, Tinh Khong, Tran Tu Uyen acceptance of or are autonomous in this pagoda. Year 580, The bonze Tinidalu from India to Vietnam stoped at a time.
Year 1069, King Ly Thanh Tong to take military attack Chiem Thanh. Chiem king fishing is Che Cu and some prisoners, including a very knowledgeable professor of Buddhist business. Access to resources is the new Meditation outspan Jl. Ly Tong Thao room of the National Road and invited his place in the pagoda of Nations, which opens Meditation Gender Thao Street in our country. The pagoda is also the home of Meditation to create transmission of life in Vietnam Hau Le.
Since the move to the song Yellow, Tran Quoc pagoda has many times in the set and restored. Year 1624, under Le Dynasty king Spirit Tong, Tam court security, court directions and missing roads are built. By the year 1639, construction of three, logistics and road corridors described property. Right of to Dai Bai's home had stele recorded the restoration that set up by Nguyen Xuan Chinh – the firdr doctoral cadidate
After a time of war is destruction, by the broken beer by Dr. discipline convenience in 1815, the year 1813 to year 1815, Tran Quoc Pagoda is disposal is Khoan The organization restored the main electricity, the missing instructions, street money, corridors, steeple, road logistics, and đắp Buddha and a large cast bell. Tran Quoc Pagoda is one of the little temple in the North have pho-compatible import of wooden tables niet steel gold beautiful. Date Posted pagoda has two questions for: Sallow coach through the Open face non-stop river to Meditation
Before the temple door seal for more than two columns:
– After the rain phen wind Asia Europe, became stable of stone, tennis last column trời Tran Quoc Pagoda.
– As an interesting talk flowers are perspicacity, soon the empty bell, wandering the Buddha's hand.
Garden pagoda, along with the written many trees in cool, a linden was provined from the branches of which 25 centuries before the Buddha-like of Qingdao, is India's R. Prasat bring a gift to Vietnam in 1958.
Natural landscape surrounding the silent temple lotus bloom season between white, red on the face of a Western country to call for people to air each of the feedback is stored in the lines of poetry Ba Huyen Thanh Quan:
Tran Bac with weed oil
Chanh our country, trying to think that pain
What a shower cast repatriation Ngự
May clouds of sticky clothes in style!
Source: yousaytoo.com