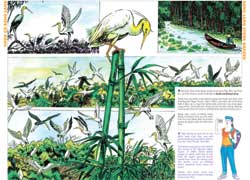 The Cuu Long (Mekong) Delta city of Can Tho has become the first locality in the country to be featured in a colorfully illustrated tourist guide book that its promoters call MComic.
The Mekong Advertising and Supplying Travel Information Co., Ltd (Metinfo) officially released on Jan. 12 the Tham Quan Can Tho Qua Tranh Ve" (Sighseeing Can Tho through drawings) guidebook.
The book employs a comic-graphic medium in which images convey a sequential narrative that helps tourists learn about the city on the banks of the Mekong with its beautifully portrayed natural landscapes and easy-to-remember historical and cultural stories.
"I hope that tourists can in a few minutes get a complete overview of Can Tho, the delta's biggest city," said Tran Kim Dinh, Metinfo director and chief editor of the book.
Established in 2005, Metinfo is the first travel advertising company in Vietnam . Its experience over five years have helped it compile the book with succinct and accurate information.
The simple but detailed drawings capture the spirit and soul of rural Vietnam in the southern region, a Metinfo representative said.
"We expect the Mcomic to be a valued souvenir for visitors to Can Tho," he added.
The illustrated guidebook, published by the Youth Publishing House,
contains 92 18cm by 28cm pages using the Couche-Matt paper, and will sell at 45,000 VND (2.25 USD).
The Can Tho City Department of Culture, Sports and Tourism has bought 2,000 copies of the book to offer as gifts and to document the city's tourism promotion activities./.
Source: vietnamplus.vn