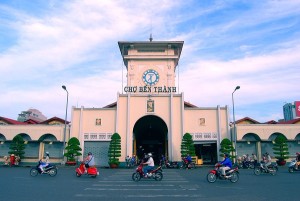 After 6 months back in the UK, it was time to return to Saigon. It was quite a short time away really, but there are a few subtle differences since I was last here. I was walking from Ben Thanh Market to Sullivans Irish Bar, a route I had taken many times in the past. About halfway there I passed a rather large department store that I did not recognise. Confused, I started to think I had taken the wrong route. There was Parksons and Saigon Tourist as expected, but opposite an entire multi storey building I was sure had not been there before. It was as if the store had sprung up seemingly overnight. I carried on along the road and arrived at my destination. A few days later I was walking from Sullivans to Diamond Plaza. I got to the 'new building' and noticed Notre Dame Cathedral in the distance so decided to take this short cut. As I continued along the road I started to recognise other landmarks and it slowly dawned on me that the road I was taking, the road that I thought was a different route was in fact the same route I had always taken. I realised that the building that had appeared had previously been hidden behind advertising boards. Six months is a short time to be away, but for Saigon it might as well have been a lifetime.
Although I have written about some of my time in Saigon in earlier blogs, I thought it was time to talk a little more about this energetic city. Although I travel around as much of Asia and specifically Vietnam as I can, Saigon is my base; spending most of my time working there. To the newcomer it can be overwhelming, but once you get used to the eccentricities you soon settle in. The traffic is just to be expected, the scams can be avoided. What you have to remember is, people are doing what they have to in order to survive. It is still only a small percentage of the population that have good jobs, and despite being a communist government in name there are few state jobs and so it is left to the people to do what they can. Be it selling food, polishing shoes, repairing bikes on a street corner or unfortunately selling themselves there is a genuine feeling of 'whatever it takes'.
Even if they have a low end job, it does not necessarily mean they are safe. With few government sanctions or health and safety standards, many people are performing dangerous jobs with equipment that is not suitable for the task. Again, this is just what they have to do to get by.
Saigon is still one of my favourite cities in Vietnam. It is the commercial heart of the nation and it is the 'big city' that draws the youth that Hanoi fails to be. Although much of the city is new, having been hit hard during the war, there is still a lot to see and do. So, rather than concentrate on the generalities of the City or the various highs and lows that have been documented elsewhere, I will talk about some of my favourite sights. It is the energy of the city that should inspire a visit, just walking around the city is an amazing experience. Once you have arrived and settled in though there is a lot to see and do.
Most city tours will include Notre Dame Cathedral, Reunification Palace and Ben Thanh Market; these are probably the three main attractions and if you only have a day in Saigon these are the must see places.
Notre Dame Cathedral sits in the centre of the Government sector. Nearby there are foreign consulates and Vietnamese government buildings. The cathedral itself is inspired by French architecture and is used for Catholic services for both foreign a local worshippers. Across the road from the Cathedral is the Central Post Office. Again this building is of French design. The highlight is very much on the inside with the high ceiling and traditional wooden booths.
Reunification Palace is not far from Notre Dame Cathedral. This strikingly modern (well 1970's modern) building has gone under several names and duties over the years depending on what is happening in the country at that time. Most recently it was the home of the Southern Vietnamese government and it was here on 30th April 1975 that the South surrendered to the North as a tank came crashing through the main gate. The building now serves as a time capsule to that era and is an important place to visit on Reunification Day. Tours are held through the building and the war bunkers beneath it. It is an interesting walk through the past.
Ben Thanh Market is one of the most famous landmarks in Saigon. Crammed full of stalls you can by almost anything within these walls. It can be a daunting experience walking through though as you a pushed and pulled, being offered anything from knock off clothes to traditional Vietnamese items. Personally, I walked in one door and straight back out the other side without stopping.
There are several museums that I must also mention, and if you are staying for longer you should really check them out as well. All are easily walkable if you are staying in District 1 and all have very reasonable entry fees (15000VND is about the normal price for any museum in Vietnam; equivalent to about 50 pence).
The War Remnants Museum is a shocking reminder of the atrocities of war. The forecourt is filled with helicopters, aircraft and other battle hardware but as you get closer you realise this is not a traditional war museum, it is about the horror of war. A replica of a POW prison drives home the brutality, made even worse by the fact it was run by the US and the inhumanity was perpetrated by them. The main museum is mainly propaganda and photos from the war. I found it very hard to stomach, the only time I had felt this sickened was in Hiroshima.
The Museum of Ho Chi Minh City is housed in a neo-classical building. There are some examples of the successes of the Country, the space program for example, but mostly the museum is about the rise of Communism. As with all things in Vietnam, it is propaganda based and written by the Government. It is an interesting visit though.
The History Museum is at the entrance to the Zoo and is a journey from the Bronze age to modern day. The history of the Vietnamese civilisation is well presented, following the traditions, art and religions of the various ethnic groups that have combined over the centuries. There is also an opportunity to see a Water Puppet show, which is quite a fun introduction to this art.
And that pretty much covers that. There are plenty of things to do in Saigon, just give it a try and walk around.
http://www.travelblog.org