The national tourism year 2012 themed "Hue-Ancient capital city-New experiences" will be held in central Thua Thien Hue province.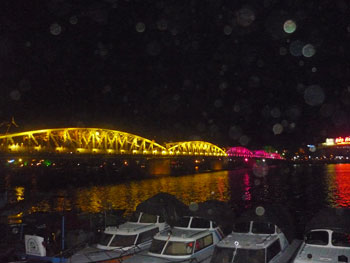 The event is expected to promote Vietnam 's tourism products and cultural heritages, attract more foreign tourists and boost domestic tourism.
Hue Festival – a quintessential biennial event of Vietnamese cultural heritages – will be the major cultural draw card.
Lying on the north-south railway and main road connected to Laos and northeastern Thailand and with the Phu Bai international airport and the Chan May seaport, Thua Thien-Hue province will be a stopover for central and nationwide tourists.
In particular, Hue city – the local tourism centre – was the capital city of the Nguyen feudal dynasty and is the sole place in the country preserving the royal court music "nha nhac" recognised by UNESCO as masterpieces of oral and intangible heritage of humanity.
Thua Thien-Hue is also well known for its cuisine, craft products and folk festivals, including the Cau Ngu festival, the boat race on the Huong (Perfume) river and Hue Festival.
The system of tombs and pagodas together with beautiful beaches like Lang Co beach, Thuan An and Canh Duong and the Tam Giang-Cau Hai lagoon will be especially attractive destinations for tourists.
The National Tourism Year 2011 themed " Exotic Beaches and Islands " took place in central coastal Phu Yen province on April 1.
Source: VNA