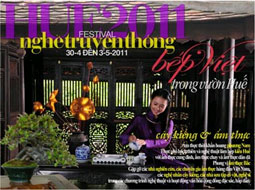 Traditional foods will be the highlight of the fourth Traditional Craft Villages Festival 2011, themed "Vietnamese Kitchen in Hue's Garden" and will be held in the ancient capital of Hue from April 30 to May 3.
The festival which will be organized in three areas: Ngo Mon Square (Noon Gate), Dai Noi (Royal Palace) and at the Huong (Perfume) River bank. The biennial festival will introduce hundreds of specialty dishes from the south, Hanoi and Hue. Native bonsais plants from all across Vietnam will be showcased to plant lovers.
Some local dishes featured will be heo nuong lu (baked pork in jar), chao luon dau xanh (eel porridge cooked with green peas), oc buou hap hem (medium-sized edible snail steamed with draff) and more will be served in the southern cuisine pavilion.  While enjoying these culinary treats in the pavilion, festival goers will be delighted with a performance of don ca tai tu (southern amateur music), Khmer dance and folk music.
Save some room for the northern food and recipes pavilion which will attract visitors with its offerings of Hanoi specialties and performances of ca tru (an ancient genre of chamber music featuring female vocalists, with origins in northern Vietnam) and hat xam (a type of Vietnamese folk music which was popular in the northern region of Vietnam).
For those who like to eat like a King, the food sections in Ngo Mon Square will represent culinary delights from the central area of Hue. According to officials from the Hue People's Council, they will introduce traditional Hue dishes including vegetarian foods, royal dishes, sweet soups, and rice and cakes.
According to the organizers at Ngo Mon Square there will also be a floating food fair on Huong River in the evening, a cooking contest for children during the festival, and an exhibition of ancient cooking utensils at the Lieu Quang cultural center and Ta Vu House in Dai Noi.
In addition, the event will include street music, artistic kite performances, folk games, a human chess contest and an exhibition of ornamental tree and culinary arts along Phu Van Lau Park and Nguyen Dinh Chieu walking street.  Many artisans of ornamental tree clubs throughout Vietnam will join the show.
The festival is held every two years and aims to encourage visitors to come to Thua Thien-Hue Province, and to Hue City, in particular.
See best hotels in hue at the website http://Vietnamhotels.net/.
Source: Thanh Nien