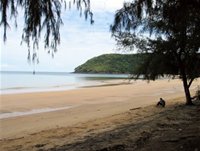 Dam Trau is a long deserted tropical beach on
Con Dao Archipelago
.
At one end is the Co Ong Airport runway where the occasional plane breaks the silence as it comes into land. At the other end is a rocky headland jutting into an azure sea. The white sandy beach is clean and backed by forested hills. It can be accessed from the road by a few rough tracks.
Tuan Anh, our tour guide tells us a sad love story about Dam Trau Beach where a clever, hardworking guy named Truc Van Cau who lived in Co Ong Village fell in love with a beautiful girl named Mai Thi Trau.
Everyone in the village thought they were a beautiful couple, until Cau's father told him that Trau was actually Cau's sister because the father had an affair with her mother many years prior. So the love was forbidden.
Knowing that they couldn't love each other anymore, Cau left his village for a small island and lived there. People called this island Hon Cau (Cau Islet). Trau was pregnant with Cau's child and she went to the cliffs where they used to meet and waited for him every day. Finally she committed suicide. The place where she died, people in Co Ong Village called Dam Trau Beach. Cau never returned and stayed on the island for the rest of his life.
A local saying goes, "Remember telling Cau, how far from Hon Cau to Dam Trau?"
The answer is 10km according to our tour guide.
Source: The saigon Times