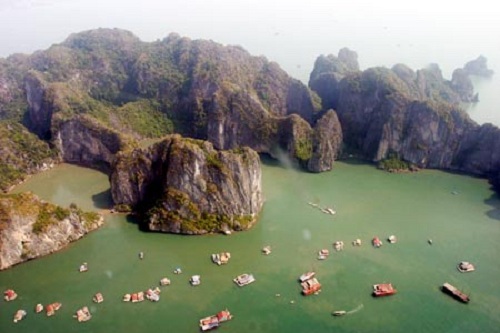 Vinh Ha Long considered as Bay of the Descending Dragon is often touted by proud Vietnamese as the world's Eighth wonder. One of the main attractions of Ha long is the bay's calm water and the thousands of limestone mountains dotting the seascape. The Bay's water is clear during the spring and early summer. Some of the islands are quite large and there are small alcoves with sandy beaches where swimming is possible. Ha Long bay lies in the northeastern part of Vietnam and is 165 Km from Hanoi.
Ha Long literally means descending dragon(s) and according to local myth, the story goes as follows:
Long ago when their forefathers were fighting foreign invaders from the north, the gods from heaven sent a family of dragons to help defend their land. This family of dragons descended upon what is now Ha Long bay and began spitting out jewels and jade. Upon hitting the sea, these jewels turned into the various islands and islets dotting the seascape and formed a formidable fortress against the invaders. The locals were able to keep their land safe and formed what is now the country of Vietnam. The Dragon family fell so much in love with this area for its calm water and for the reverence of the people of Vietnam that they decided to remain on earth. Mother dragon lies on what is now Ha Long and where her children lie is Bai Tu Long. The dragon tails formed the area of Bach Long Vi known for the miles of white sandy beaches of Tra Co peninsula.
This myth is in line with the Vietnamese myth of their origin Con Rong Chau Tien. This myth describes the union between a king (representing the dragon) and his bride (representing a goddess) giving birth to 100 children which are the ancestors of the Vietnamese people. The Ha Long myth illustrate the Vietnamese belief of their origin and the fact that throughout their history, they are aided by their ancestors, the dragon and the gods, in the defense of their land.
| | |
| --- | --- |
| If you like and want to see the bay of descending dragon, visit this site https://www.vietnam-visa.com/ to get the easiest way to get visa to Vietnam | |
Collected by Vietnamtravelblog.com