Cua Dai Beach, 4km from Hoi An ancient town, is considered one of the most beautiful beaches in central Quang Nam province.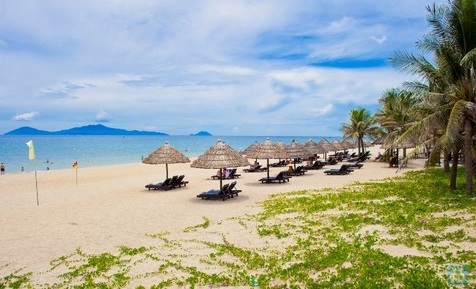 This special beach stands out with restaurants, hotels and newly-built modern resorts. Roads are lined with colourful clusters of wild flowers planted to relax visitors.
From Hanoi, we flew with our nine-year-old son to Da Nang and arrived in Hoi An City at 9am on a Vietnam Airlines flight. After checking in to the Hotel Vinh Hung Hotel, in the centre of the city, a kilometer from Hoi An ancient town (about 25 minutes walk), we decided to head to Cua Dai Beach immediately in a bid to steer clear of the scorching heat of the centre.
At the low cost of 15,000 VND per day, renting a bicycle is popular among visitors to Hoi An City. Beach goers, especially foreign visitors and young people, tend to enjoy pedaling a bicycle the short distance from town to Cua Dai Beach . It took us about 30 minutes to pedal our way there.
Motorbikes and taxis are also available for families with children and elders.
The beaches are stretches of white sand, with moderately salty, shallow water which stays a lovely shade of blue year-round. At night, the surface of the sea is filled with the pinpoints of lamps from thousands of fishing boats. I imagined it was a lantern city on the sea.
Lying on canvas chairs, we breathed in the sea air and sunbathed while my son built sandcastles. Afternoon is the best time for visitors to swim and relax in the soft waves.
Seafood dishes prepared by local cooks are excellent and especially fresh. We ate two special dishes; steamed lobster and chao ca mu (grouper gruel) at Tan Loc restaurant which is under the direction of a young female chef. Both the lobster and the grouper were fresh-caught and purchased from local fishermen on Cham Island early that morning.
It was the second time I ate lobster. The first time was at a fancy restaurant in Hanoi , but the taste was different.
The sea air and the skills of the local cook brought us the fresh flavours of the sea. Additionally, prices here were reasonable; about half compared to Hanoi restaurants.
Friendly young female servers with healthy sunburnt complexions talked easily with foreign visitors in English, happy to take the opportunity to introduce their country.
"They (local villagers) are friendly and speak English very well. The beach is clean and the sea is blue. I will come back," an Australian visitor told us with a smile.
Cua Dai's waters are plentiful with sea life, making fishing a popular form of entertainment for tourists. Visitors can hire small boats to go fishing.
We like Cua Dai Beach because it was not overloaded with visitors and the local people are warm and honest. I also found the local people to be trained and cultivated with the essential skills needed to serve guests, including foreign visitors./.