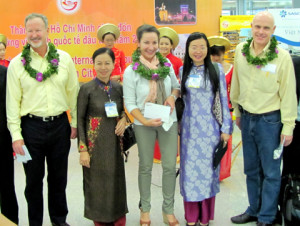 The number of International tourists to Vietnam in the first week of this year was up 10 – 20 per cent on the same period last year, according to initial estimates.
Doan Thi Thanh Tra, Saigon-tourist's marketing manager, said the company welcomed more than 1,500 international tourists during the first week of 2011, the Vietnam Investment Review reports.
Last year, Saigontourist served 320,000 international tourists and gained a turnover of VND1.23 trillion (US$61.5 million), a growth of 18 per cent and 20 per cent, respectively.
On New Year's Day, the company received dozens of tour groups.
"This was a great start to the year, having many tourists come via air or boat. We expect more for the entire year," Tra said.
The company is expected to grow by 15-20 per cent this year.
The number of international tourists to Vietnam via another large tour operator, Fiditour, also increased by 15-20 per cent during the first week.
Nguyen Thi Thuyet Mai, Fiditour's director of Foreign Affairs and Media, said the company would grow by 20-25 per cent this year.
The company expects to serve 15,000 international and domestic tourists during the coming Lunar New Year holiday, up 30 per cent year-on-year.
Nguyen Minh Man, PR manager of Vietravel, said the company welcomed 50 international tourists on New Year's Day.
The company has targeted 30 per cent growth in the number of tourists this year compared to 2010, Man said.
Vietravel led the tourism sector in turnover last year with VND1.45 trillion ($72.5 million), and expects to earn VND1.8 trillion this year. Tourism activities in other localities have also been flourishing.
For instance, in the first two days of the year, Halong City received 10,000 tourists from vessels, while central Khanh Hoa Province and the historic Hoi an in central Vietnam welcomed 2,000 international tourists.
According to travel companies, regular promotions and advertisements on Vietnam tourism have been the driving force behind the surge in the number of tourists.
The opening of new of international routes, including HCM City-Istanbul on Turkish Airlines on December 30 last year, Taipei-Danang City on Taiwan's Transasia Airlines in mid-December, and HCM City-Beijing on Vietnam Airlines in mid-December, has also spurred tourist interest. Vietnam Airlines has seven direct flights to China, and it intends to increase the HCM City-Beijing route from three to four flights per week beginning in April.
Beginning November 9, Vietnam Airlines in cooperation with Vietnamtourist (Vitours) in central Danang City launched charter flights for a three-month period from Hong Kong to Danang on Wednesday and Saturday.
The airline began two charter flights per week from Seoul to Danang on January 9.
It expects to open a direct flight from Hanoi and HCM City to London this year.
Tran Chi Cuong, head of the Tourism Division under the Danang Culture, Sports and Tourism Department, said the city would open international flights including Danang-Japan and Danang-Con Minh (China) to attract more international tourists.
Da Nang received 42,000 international tourists by air last year, up 250 per cent year-on-year.
At least 90 per cent of international tourists come to Vietnam by air, said Doan Thi Thanh Tra.
The additional flights this year will increase the number of international tourists to the country, he added.
Source: VNS