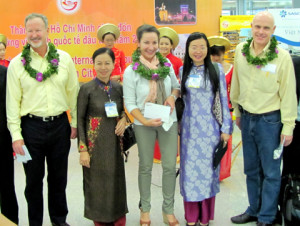 Reviewing the tourism industry's performance in 2010, the Vietnam National Administration of Tourism VNAT announced with great pleasure that the country received five million foreign tourists and 28 million domestic travellers in the year. However, experts have pointed out that Vietnam could do much better.
5 million foreign tourists – where were they from?
According to VNAT, five million foreign tourists should be seen as an encouraging result, especially when Vietnam experienced a bad year 2009.
However, according to Thoi bao Kinh te Saigon, the figure can mean many things. Of this number of five million, two million tourists were considered "low income travellers". They were Chinese travellers, who came to Vietnam by land and crossed the border gates in the north. Besides, there were travellers from Cambodia, who also travelled by land and crossed the border gates in the south. These travellers stayed at one-star hotels or guest houses. China and Cambodia were the two markets which saw the highest growth rates in the number of travellers.
Every day, the Moc Bai border gate alone sees 78 45-seat coaches, which run on HCM City-Phnom Penh route,. Besides, there are also the trips provided by travel firms. This makes the number of tourists high. However, no tour guide who can speak Khmer language has been granted practising license. These are western backpackers. No country in the world encourages this kind of tourism, because it is difficult to manage and the State cannot collect tax from these subjects. While Cambodia prohibits the citizens from 10 countries to enter the country, Vietnam keeps the doors open to everyone. As the result, many travellers have decided to stay in Vietnam, with no documents or jobs.
A question has been raised of how many tourists out of the five million came to Vietnam for the second or third time. The figure would be very low.
Opportunities missed

Vietnam has many opportunities to develop tourism, but it doesn't take full advantage them
Vietnam is a politically stable country with great potentials, and a new destination to many tourists. It is estimated that about 2 million foreign tourists come to Angkor Watt every year. If a general consulate in Siem Reap is set up to advertise Vietnam's tourism and grant visas on the spot, Vietnam will be able to attract some hundreds of thousands of tourists more.
In 2010, Thang Long Royal Citadel was recognised as the world's heritage. Giong festival and 82 stone steles at Van Mieu Quoc Tu Giam were also put on the list of the world's heritages. Yet tourists have not heard much about them, and even when they visit the sites, they do not receive any information
Vietnam has many big festivals, every month, in every province. The most splendid one was the 1000th anniversary of Thang Long-Hanoi in 2010. However, the festivals did not in attract tourists. The biggest problem of Vietnam's tourism is that the country is still lacking a central coordination with a long term development vision. the "every man for his own interest" attitude prevails, instead of joining forces to develop the tourism industry for the common interests.
Vietnam has been urged to learn from other countries to develop tourism, especially from China and Thailand. The Thailand Administration of Tourism (TAT) has offices in 24 countries. TAT's office in Ho chi minh City has employees who can speak Vietnamese and has Vietnamese officers who can speak Thai. It has the division in charge of surveying market and has professional partners. This helps Thailand attract tourists from all over the world.
Source: Thoi bao Kinh te Saigon