"Mekong Delta can be seen as one of the most attractive tourist destinations in Asia with beautiful natural landscapes, but it may soon lose this advantage due to rapid infrastructure development. And it take years to reinstate those precious values," said Prof. Ernst Sagemueller, general director of the Europe-Indochina Institute for Tourism, at a recent conference entitled "Potential and Development Opportunity in Mekong Delta" in the city of Can Tho.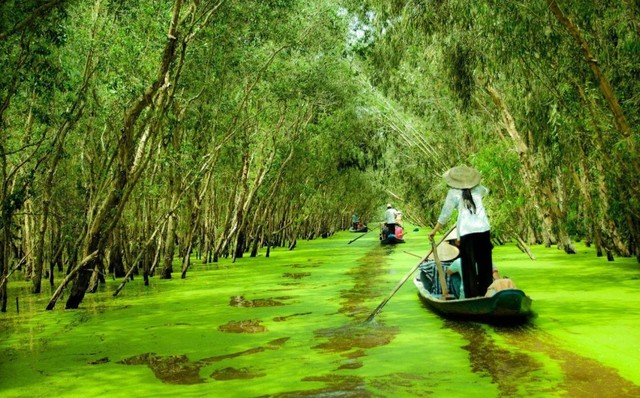 Prof. Sagemueller said that the delta should be developed in a way that is consistent and friendly on the basis of a close connection between green tourism, ecotourism and environment protection activates, preserving and upholding unique local values such as temples, pagodas, cultural festivals and ancient customs.
In recent years, Ho Chi Minh City's hotels have not been able to meet high demands in the peak seasons, so neighboring provinces like Binh Thuan, Khanh Hoa, Ba Ria – Vung Tau take the opportunity to market their tourism potential. The delta is also a neighbor of Ho Chi Minh City. However it is surprisingly quiet in this competition.
What's the matter with the delta?
Poor transport links are a major difficulty in the delta. Highway 1A is the only road from Ho Chi Minh City to the delta. A vast canal system supports water transport, but it is not easy to find a stable route for a high-speed boat. Even the boats which are used to carry travelers across the rivers are of low quality.
Aviation is clearly not the best choice since there are few weekly flights to Ca Mau, Rach Gia and Phu Quoc Island while the Can Tho airport, the region's biggest, is being upgraded.
The delta's tourist spots do not have their own unique tours. Most of them are fairly similar. They feature a fruit garden tour while enjoying don ca tai tu (Southern amateur music).
The lack of riverside premium resorts, professionally skilled human resources and poor customer service are reasons that the delta is not the first choice of wealthy tourists. In addition, there are plenty of festivals around the year, but they have never been properly exploited. Thus, it can be said that the slow development of delta tourism is not due to its resource deficiency, but the inappropriate methods being use.
Targeting the market
Many tourist specialists believe that the delta cannot become an ideal destination for local travelers. But sunny sky, mellow countryside and peaceful breezy canals can be very appealing to foreign tourists.
Mekong River would be the biggest competitive advantage in area where travel agents can organize tours to Cambodia on the river, or investors can find hundreds of kilometers of riverside to build premium resorts. It becomes a friendly natural destination for all travellers. Can Tho airport is to open international routes very soon. It seems that Mekong Delta is being given a chance to develop its tourism advantage.
(Source: SGGP/TT/TBKTSG, URL:http://english.vietnamnet.vn/reports/2008/08/799109/) – Collected by Vietnam Travel Blog