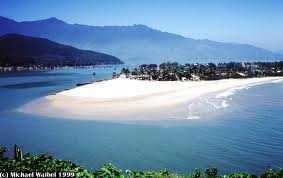 Vietnam tourism is about to finish the 5 year development period of 2006-2010 to enter a new development era. According to Mr. Nguyen Manh Cuong, Deputy General Director of the Vietnam National Administration of Tourism, in the next 10 years, Vietnam Tourism will move its focus from "quantity" to "quality", in which tours to explore sea, culture, ecotourism, communitiy development are among top priorities.
Vietnam boasts world-class beaches, bays and islands including Halong bay, Nha Trang beach, Mui Ne, Phu Quoc island, Con Dao island, etc. The facts indicate that in recent years, sea tours have attracted a great number of overseas tourists and brought about the largest portion of total tourism income of the country, Cuong said. Nevertheless, sea exploitation for tourism development is still considered spontaneous and wasteful. Long term planning strategy is therefore needed to ensure sustainable development in the coming time.
The tourism sector will target maintaining growth rate while improve tourism income by developing high value-added products. The sector tries to earn US$ 8.9 billion in revenue, accounting for 5.2% of GDP by 2015; US$ 15.9 billion and 6.0% of GDP by 2020.
In the new development period, increasing tourism income will be the core issue. The industry aims at exploiting both domestic and international markets while giving priority to luxury clients to attract foreign currencies, maintain traditional source markets.
Vietnam will concentrate on luring tourists from ASEAN, Northeast Asia, Western Europe, North America, Northern Europe, overseas Vietnamese…; place sea tourism at the core position in the development strategy of the industry to draw tourists, earn big income and create lots of jobs.
Source: VNA